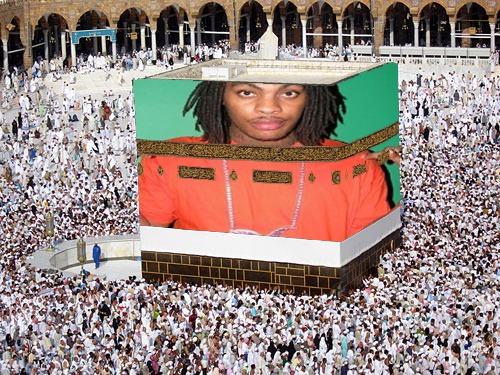 Waka Flocka Flame had quite a year last year. Last time Donewaiting talked to him in October 2010,  he just dropped a classic with Flockavelli. We tipped Waka off that punk rock and metal kids mess with him.
In the coming year Waka campaigned for P.E.T.A. and the Atlanta rapper also embraced his role as the punk rock kid's favourite rapper.
And that's all side hustle really. This isn't counting all the really huge things, like the smash hits, Hard in the Paint, and No Hands.  Or Ferrari Boyz and all of the mixtapes.
Waka is gearing up for a huge 2012. He's prepping the Triple F Life album, which is slated for an early 2012 release with guests Drake, Tyler, the Creator, BSM and possibly both DMX, Nas and plenty more. I talked him on the phone yesterday, and he discussed the meaning of each of the F's. I also asked him if would do it to Sarah Palin. Unfortunately, he did not know who Palin was. Well, please read this interview.
Shout out to Prince Kennedy for hooking it up.
ME: My name is Wes Flexner. I am with Donewaiting.com. How are you doing today?
Waka Flocka Flame: I am good.  I am on the tourbus.
ME: How is the tour treating you?
Waka Flocka Flame: C'mon man. They love me.
ME: People wilding out. Going crazy?
Waka Flocka Flame: It was crazy.
ME: Can you tell me the name of the new record?

Waka Flocka Flame: My new record is "Round of Applause." I remixed it with Drake. Shit is serious. It's like a woman just want to rub herself man.
ME: So when you write a record like "Round of Applause," do you go to the strip club to do research?

Waka Flocka Flame: Naw, truthfully when I did "Round of Applause" I just think of me with a woman. I rap it to my girl.
ME: The new album is called Triple F Life. What are the three F's?

Waka Flocka Flame: Friends, Fans, Family
Read more about Waka Flocka Flame after the jump.
ME: I noticed you are really good with your fans. Why are your fans important to you?
Waka Flocka Flame: C'mon man. Why are interviews important? Same difference. That's a must. Without your fans, who are you? Why are you doing music? I used to think, "It's just for the money." It's cool to get the money. But if you don't have no fans, shit ain't fun.  It's cool to smile. I like the feeling of making a person smile.
ME: Me and my friend, we were going through your instagram yesterday and you also do a photoshop with like Squarebob Spongepants. Do you make those yourself?
Waka Flocka Flame: Hey man, hey man. You called me out. I make those myself.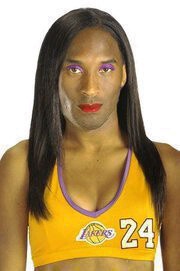 Waka Flocka Having Fun With Photoshop.
Me: I think it's really cool you do that… Another F is for Friends, right? You have a bunch of different friends on the album. What is some stuff Suge Knight has taught you?
Waka Flocka Flame: Suge is just a cool person. He ain't got nothin' to do with me music-wise. He is just a cool person.
ME: So on the album you've got Drake.  You have Tyler, the Creator. What's it like working with Tyler, the Creator?

Waka Flocka Flame: Tyler, the Creator is my bad-ass little brother. Every time you see him. You be like, "This mutha fucka is wild.'
ME: What's the name of the song with Tyler, the Creator?

Waka Flocka Flame: It's called, "It's a secret."
ME: On the internet, it said it was called "Garden Gnomes." Who else is on the album?

Waka Flocka Flame: Tyler, the Creator. Drake. I am trying to get DMX, man this guy is so hard to catch up with. DMX. I got some more people, you know. Nas.
ME: You have a song with Nas. Wow, that's amazing.
Waka Flocka Flame: He is soon to get on.
Me: When is the album gonna drop?
Waka Flocka Flame: I wanted to drop 4th quarter. But I want to put my all into it. So I am dropping it 1st quarter.
Me: Another F is family. Is your mom still managing you?
Waka Flocka Flame: My mother will always manage me. If I get another manager, I am going to have two of them. She will always be the last one to make the decision.
Me: Sorry to get a little personal. But on "O'Le Do It" you said you hadn't been right since your brother passed. Have you been able to find peace with that?
Waka Flocka Flame: Honestly, I don't think I will be able to find peace until I close my eyes.
Me: What discussion of family is gonna be on the album?
Waka Flocka Flame: A couple of issues. A couple of life experiences with family I had.
ME: Another word that starts with F is fame. How do you deal with fame?
Waka Flocka Flame:I don't know about fame. Fame ain't a word. I drop the E. F-A-M. Family Above Money.
Me: That's cool. I am gonna ask you a silly question. I was reading that Sarah Palin, the lady that is running for president, had an affair with basketball player Glen Rice. Back in the 80s. I was wondering. Would you fuck Sarah Palin?
Waka Flocka Flame: The President lady?
Me: Not Michelle Obama. Sarah Palin. She was running for president. She is a Republican lady. She is kind of a bitch. She lived in Alaska. When basketball players would come and play games up there she would have sex with the basketball players. I guess you don't know who she is. She likes black guys. I figure it's very plausible that she would have a crush on Waka Flocka Flame.
Waka Flocka Flame: Shit, you need to hook that up boy… I wish I'd seen her. I ain't got a picture so I can't answer the question. She sound like she would be you know.
Me: Yeah, it'd be funny. It'd be great.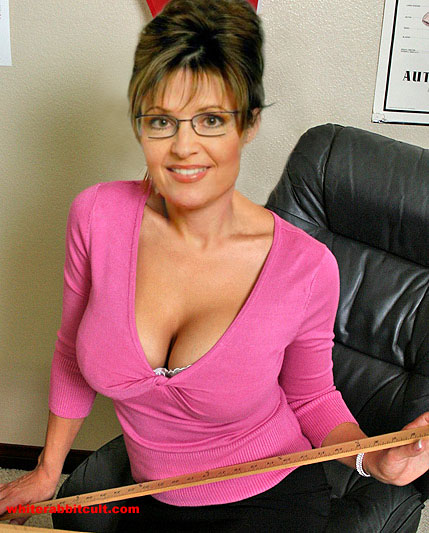 Me: I read somewhere that you are going back the old Waka. The '09 Waka. What does that mean?
Waka Flocka Flame: I am back to that 09. It means I am not conscious what I do. I am do it because I wanna.