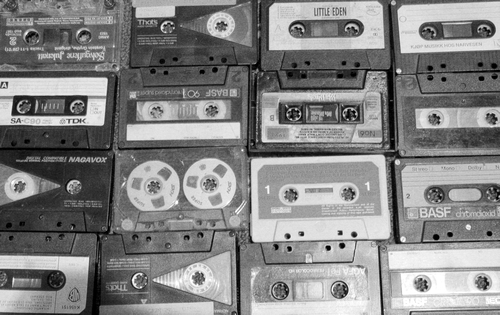 Details are really vague on this one but if you like De La Soul and also FabricLive Mixes then will you probably dig it.
In the unusually warm 3am air of a Parisian suburb, a house party is getting out of control. Police Nationale have been called – but no-one can get near. The air is thick with Hip-Hop filling the adjacent streets, acting like a force field. You can hear the faint licks of Aerosmith and the rising vocals of Bowie as far as the Champs Elysees. Is that DJ Kool Herc on the decks? Situated in the Capital of French Electro, the influence is audible, while Meth, Red, Jay-Z and even Mystikal get 16 bars in on the mic. Who knew The Beatles were this funky?

The cause for celebration? It's the wrap up party for First Serve, an undercover project that has been two years in the making. First Serve is the brainchild of French producers/ DJ's, 2 & 4 (aka Chokolate & Kahlid), who met as master turntablists at the 2004 DMC Championship. After an instant meeting of minds they decided to embark on a musical adventure – a Hip Hop album played by musicians. All they needed was a couple of MC's to help complete their vision. Enter NY based Jacob 'Pop' Life and Deen 'D' Whitter. Listen to the mixtape recorded at the party. It's funky, it's hip hop, it's disco… and it's a classic!
Tracklisting:
1- First Serve – We Made It Interlude
2- First Serve vs Aloe Blacc – Pushin' Aside, Pushin' Along
3- Notorious BIG vs De La Soul – Whatchu Want
4- Krs-ONE vs 2&4 –
5- Jay-Z – 99 Problems (Prodigy Remix)
6- First Serve vs Run DMC – The Work/Walk This Way
7- Run DMC vs Jason Navins – It's Like That
8- Theophilus London – Girls Money
9- 2&4 vs Akil (of Jurassic 5), Busta – Must B The Music (Remix)
10- First Serve vs Eminem – Move 'Em In, Move 'Em Out
11- Lupe Fiasco feat. MDMA – Coming Up
12- Cee-Lo – Bright Lights, Bigger City
13- Grand Master Flash – The Message (2&4 Mash Up)
14- Mystikal – Bouncin' Back
15- Jurassic 5 – The Influence (2&4 Mash Up)
16- Redman vs Dj Quick – Get Dirty (2&4 Remix)
17- IAM – La Saga (2&4 Mash Up)
18- First Serve – Must B The Music
19- The Beatles vs Joan Jett vs Cypress Hill vs House Of Pain vs RATM – Mash Up
20- BB King – Boom Boom Boom (Remix)
21- De La Soul – Say No Saturday
22- Nas – Made You Look (Remix)
23- Ini Kamoze vs Naughty By Nature – Here Comes The Hotstepper
24- First Serve – Move 'Em In, Move 'Em Out (Demo Version)