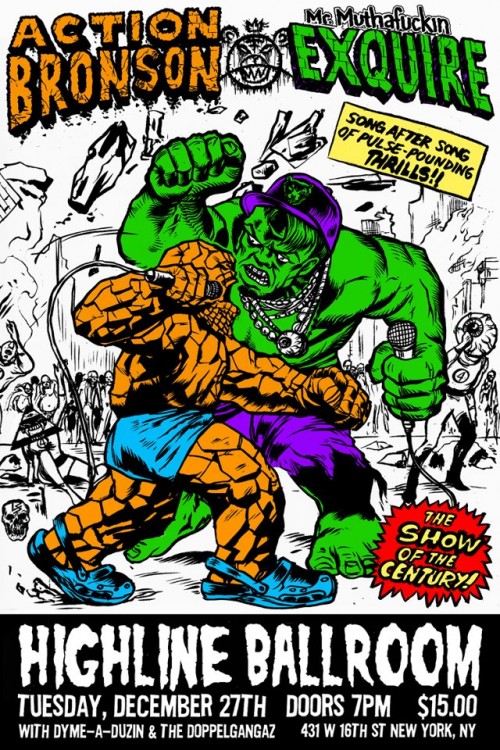 I'm not in NY tomorrow. But if I was, I would probably go peep out the MR. MUTHAFUCKIN' EXQUIRE show with Action Bronson, the Dopplegangaz, and DYME-A-DUZIN at the Highline Ballroom in Manhattan TOMORROW, December 27th. He just dropped this MR. MUTHAFUCKIN' EXQUIRE MERRY eX-MAS & SUCK MY DICK tape yesterday. It's chock full of hostile and depressed violent New York rap.  We showed you the Motivate to be Rich video a few days ago. Check out Mau Mau and Biggie Tribute if you fuck with raw BK rap. But don't confuse him with the washed-up dude that won't shut the fuck up about 1994. Mr. Muthafuckin eXquire has joints with Danny Brown(Killer Tofu), El-P(The Rocketeer), flips A$ap Rocky(RIP Payso), has a dumb uptempo dance track (Power Unit pt. 2 feat Dallas the Kid) and even does his own version of a D'Angelo song (Devil's Pie). Indie rap heads may be stoked that Mr. Len, and Necro have beats on here.
Peep Merry eX-Mas & Suck My Dick out on Exquire's bandcamp.
CHICAGO heads can peep out eXquire Saturday, January 21st at The Beauty Bar.