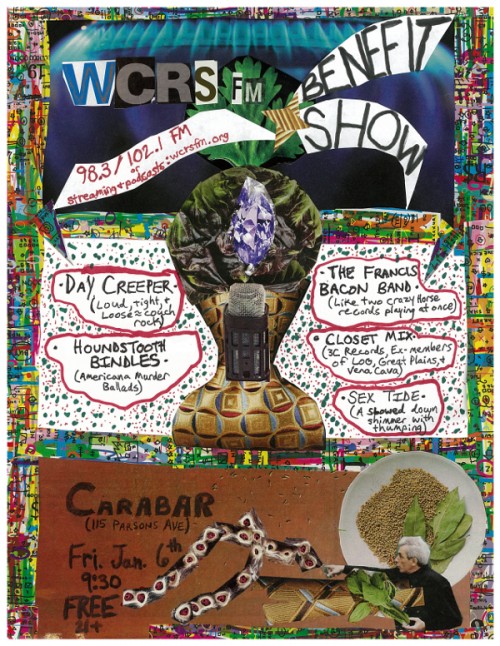 It's at Carabar, so it's free, but a portion of the bar revenue goes to community radio station WCRS (102.1/98.3). Music starts at 9:30.
Jon Fintel's Relay Recording is also hosting a grand opening party for the new N. 6th st. location in the Discovery District (is that a real thing?). Eye, Ease the Medic, She Bears and Harboring Ghosts will perform a live set that will be recorded. Full press release:

"Columbus, OH, December 8, 2011: Relay Recording is excited to announce the grand opening of their new location on N. 6th Street in the Columbus Discovery District. The Studio will celebrate the opening of their new location with a free concert in the Studio Live Room on Friday January 6th, 2012, starting at 8pm., with performances by Eye, Ease The Medic, She Bears, and Harboring Ghosts. All four acts have recently worked on new recordings with Engineer and Owner, Jon Fintel.
Relay Recording is a state of the art music recording facility offering over thirty-eight hundred square feet of creative space. With the best in pro audio equipment and the some of the finest in vintage instruments available we are able to achieve sounds worthy of our client?s creativity. The downtown recording studio offers everything to take a project from start to finish including recording, mixing, and mastering.
Born in 2002, Relay Recording began as a small home recording studio in Bexley, OH. In a few short years with many successful records under their belt, including work with Our Lady Peace, John Legend, Willy Mason, and Ha Ha Tonka, the studio moved to a larger commercial space in downtown Columbus, OH. This location proved to be even more successful than the first but had one fatal flaw; it was located on property owned by State Auto and not seen as the valuable asset to the artistic community that it was. After six years of operation at this location the studio was torn down in 2010 and became a parking lot for State Auto employees. More than a year later, and with no small amount of hammered fingers in the interim, Jon Fintel has rebuilt Relay Recording in an even larger, more comprehensive facility, offering almost four thousand square feet of recording space in a convenient downtown location.
Relay Recording is excited to share its new space with the public at the Jan. 6 performance and looks forward to continuing its musical legacy at its Discovery District home. For more information, please contact Jon Fintel at 614-560-4540 or via email at jon@relayrecording.com."