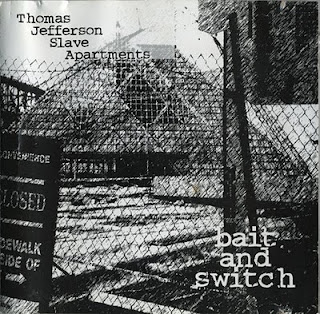 MP3: My Mysterious Death (Turn It Up)
The more your hear about the origin of Old Columbus bands, the more you realize how many of them formed accidentally, the result of spontaneity and serendipity. Thomas Jefferson Slave Apartments was one such band. On a night about 20 years ago, soon after the dissolution of Ron House's previous band, Great Plains, a band playing Stache's ended early.
The story could have ended right there. Everyone at the bar could have just continued to get drunk and/or gone home. Instead, though, House and Girly Machine guitarist Bob Petric hopped on stage with some friends, borrowed the idle guitars and amps and started jamming on blues riffs. "We just kind of jumped up out of sheer boredom," Petric said when I interviewed him last year. But something clicked, and they decided to do it again. And again. (Sound familiar?)
"It was kind of a fuck-off band for a couple of years where we just got together and jammed," House said last summer. "The Columbus scene was really taking off—like the New Bomb Turks, Gaunt. So I didn't have to do very much, just shout and scream and people would notice us locally. The whole scene was a more brutal, punkier scene. There was enough things going on that all we had to do was just go out and play and things would happen for us."
That's probably not giving the band quite enough credit, especially House's lyrics and snotty delivery and Petric's axe-wielding. But things did happen, like eventually signing to Onion, a subsidiary of Rick Rubin's American Recordings, to release Bait & Switch.
"Johan Kugelberg was looking to sign bands for [Onion]," House said. "He asked three other bands and they all turned him down so he asked us."
"The fact that Rick Rubin read my name on the liner notes — that, to me, is sufficient grounds for satisfaction," Petric said. "When Johan put out the record, he was more of a little kid about it than we were. I remember Johan calling me up, saying, 'Hey, Bob, the second time this week I walked into Rick's office and he was laying on the couch listening to the Slave Apartments record, man.' To me, that's like having Johnny Cash make dinner for you or something."
Petric also looked back fondly on the time TJSA spent on the road with Guided by Voices. "Being able to go on tour with GBV for three weeks, that was like vacation," he said. "There was a positive but gentle-hearted competition between us and GBV. Bob [Pollard] was just effusively praiseful of the Slave Apartments. He really liked us. He said nice things about my guitar playing, too. I remember one time in Seattle, Bob got a kick out of the fact that Ron and me and Craig Dunson and Ted [Hattemer], we all huddled up and did this chant, 'Beat GBV! Beat GBV!' Bob Pollard came up and was just laughing his ass off, saying, "That's why you guys rule!" He ended up singing 'Cheater's Heaven' with us."
A jam at Stache's. A fertile scene. A big Swede with art-rock tastes running part of a major label. It's an unlikely series of events, but one we'll gladly celebrate this Friday at Ace of Cups, when TJSA plays Bait & Switch in its entirety —- something that's never been done, and likely never will be done again.
Thomas Jefferson Slave Apartments, Bill Fox, P. Blackk, Zero Star, Sundown and DJ Detox will play Friday, Feb. 3, at Ace of Cups. Note: That's a lot of bands, so this will start earlier than most shows. Be sure to get there by 10pm to see Bill Fox.