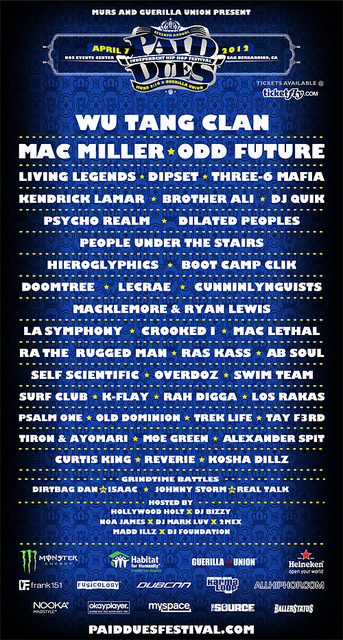 Odd Future's MellowHigh- "Lift" (Feat. Juicy J of Three 6 Mafia)
Three 6 Mafia, Mac Miller, Brother Ali and more join Headliners Wu-Tang Clan and Odd Future
Saturday, April 7 at Southern California's NOS Events Center. There will also be a Grind-Time Battle. Three Six Mafia shares a stage with the Grind Time Battle.
Look above or after the jump. Tickets here
PAID DUES LINE-UP
Paid Dues Stage
Wu Tang Clan
Odd Future
Living Legends
Dipset
Heiroglyphics
Boot Camp Click
Doomtree
LA Symphony (Reunion)
Swim Team (Open Mike Eagle, DFD, VerBS, Alpha MC)
Old Dominion
Surf Club (Kent Money, Chase N Cashe, Hit Boy SC)
Hosted by DJ Bizzy and Hollywood Holt
Dues Paid Stage
Kendrick Lamar
DJ Quik
Dilated Peoples
Psycho Realm
PUTS
Crooked I
Rass Kass
Self Scientific
Ab-Soul
Overdoz
Los Rakas
Trek Life
Tiron & Ayomari
Tay F 3rd
K- Flay
Moe Green
Curtiss King
Reverie
Hosted by: DJ Mark Luv x Noa James

Monster Energy Stage Hosted by Grind Time
Mac Miller
Brother Ali
Three 6 Mafia
Lecrae
Macklemore
Cunninlynguists
Alchemist and Oh No are Gangreene
Mac Lethal
Rah Digga
RA the Rugged Man
Psalm One
Rapsody
Alexander Spit
Kosha Dillz
Grind Time Battles:
Dirtbag Dan v. Isaac
Jonny Storm v. Real Talk
Hosted by: Mad Illz and DJ Foundation