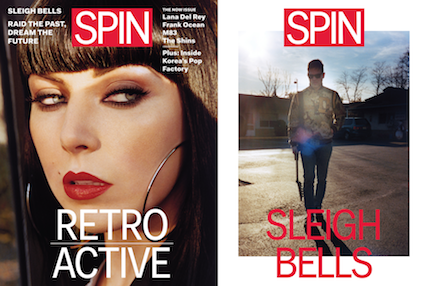 After spending some time with the newly redesigned and refocused SPIN –– the March/April edition with Sleigh Bells on the cover — I'm convinced it's the first music magazine to finally get ahead of the curve, and it did so by embracing some things that would seem counterintuitive at first glance.
It's large. While every magazine and newspaper in America is getting smaller and thinner, SPIN just got bigger and thicker — 9.5 inches wide and a foot long. (Most glossies, in comparison, are around 8 inches wide and between 10 and 11 inches in length.) That means big art, more art and more text. It also means that the magazine is now bimonthly, likely because even a mainstream pub like SPIN can't afford to put out a magazine like that every month. But in adjusting to bimonthly, SPIN forced itself to become what a post-Web 2.0 music magazine should be: A place for long-form stories and analysis (with nice, wide columns of text). Even daily print publications rarely break news that wasn't first found on the web, so a monthly or bimonthly magazine shouldn't attempt to. The stories should hold up. They should be relevant two months after the magazine hits newsstands. Judging by this first issue, SPIN gets that.
It feels good. It's bulky and remains perfect-bound, but the gloss is gone. The matte cover is a thick card stock, and more than half the magazine is matte. It feels special, artful, homemade and more than a bit nostalgic, but not cloying Instagram-nostalgic. (There's still some glossy pages in the first half of the book; I'd recommend going all in and getting rid of the glossy feel entirely.)

Fewer reviews. SPIN was able to swallow its pride and admit that few people head to print publications for album reviews anymore. Reviews are the domain of the Internet now, for better or worse. As such, SPIN moved most of its reviews online, and an even bigger chunk to its controversial @SPINReviews Twitter feed, which reviews new releases in 140 characters or less. This frees up the back pages of the magazine for "The Guide," which does have some capsule reviews of reissues, but instead of printing Rob Harvilla's Lana Del Rey review that's been online for almost a month, Christopher Weingarten talks about a gaggle of female-led bands (Del Rey included) inspired by David Lynch.
…Now, the new SPIN isn't perfect. Some aspects — like the half-matte/half-glossy thing and still too many short pieces — at times make it feel like a gangly teenager that isn't quite comfortable in a bigger frame. And while David Marchese's Sleigh Bells cover story is a must read, I didn't devour the issue cover to cover. Not everything appealed to me. But I could say that for just about any magazine I subscribe to, and if every single thing was about an artist I love or want to know more about, a good chunk of SPIN would be boring to a good chunk of people. And in this new format, I'm more likely to come back later to see what I missed.
I guess what I'm saying is this: While most Old Media monthlies have attempted to adapt to the New Media world by merely making smaller magazines and creating clumsy websites and/or iPad apps with the same content, SPIN deserves kudos for a creative, intuitive and risk-taking reinvention.
(Disclosure: I have written for SPIN on occasion.)