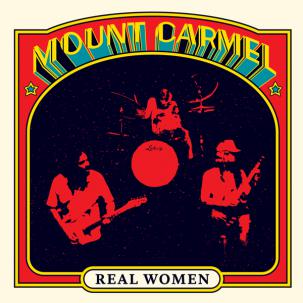 MP3: Mount Carmel – Real Women
Upon first listen of Mount Carmel's second full length release Real Women, one cannot deny how far these dudes have come since their debut. While the subject matter is less diverse, the songwriting is stronger, the musicianship is tighter and I'm willing to bet this progression alone makes for a pretty badass live show at the moment.
Upon second, third and twentieth listen, I LOVE Real Women and the instant nostalgia it makes me feel for Ohio rock music. Whilst The Black Keys have set the pace for born-and-bred Buckeye rock globally now, Mount Carmel visits the more visceral jazz and blues side of our homeland. This record came to me at the perfect moment during a winter funk where I had just finished re-watching Freaks and Geeks. There's no doubt in my mind that Judd Apatow would have spent his impressionable teen years wearing out the grooves of Real Women had it been released 35 years ago.
Brilliantly recorded by Adam Smith at CDR and Musicol, this record is bound to be an asset to Siltbreeze and hopefully ensure some heavy touring for Matt, Pat and Kevin for the rest of 2012. Be sure to pick up a copy at your favorite local record store.
Check out the band's recent spotlight on NPR's "All Songs Considered" for their title track off of Real Women.