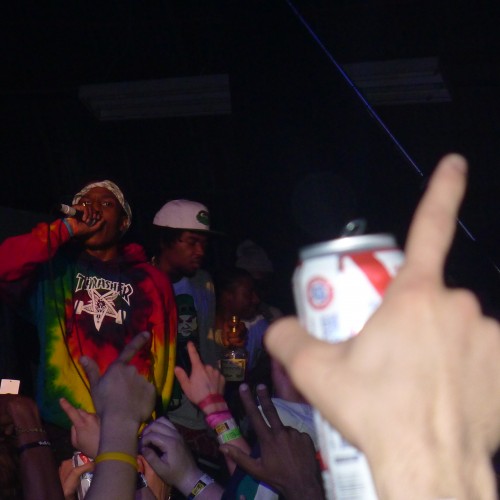 The VICE KILLS TEXAS SXSW Party did not fuck around last night. A$AP Rocky and his whole mob had the sizable crowd rocking in an airport hangar at like 3:00 Am. People kept throwing bottles, PBR cans and water cause I mean everyone likes being bad.  So eventually A$AP ROCKY and his crew bumrushed the crowd.  It's true the Harlem squad went into the audience swinging on fools  but it seemed like they were more pulling people's cards than trying to hurt anyone.
This led to mild white on white crime over who pissed "that pretty mf off, dude'.  Which has to be semi-almost as entertaining as "cocaine & white females" . (Which ASAP_Ant performed eaerlier)
I fully appreciated it all.  Also emphatically one has to have empathy for the A$AP Mob..  Imagine drinking Hennrok straight out of a bottle after doing a zillion showcases and shit is flying at your head.
Rocky tried to keep it cool and told the whole Mob to fallback. There were mild tiffs after which A$ap Rocky would make calming bantar. Dude was rocking a tie-dye Thrasher shirt so it felt sincere. So he would get people to chant world peace to try to change the energy in the room. And then follow the attempts for trill-out by pragmaticly asking the crowd  'who loves world peace but would fuck next man up for fucking with him'.
(thats not a direct quote but it's on point)
Rocky rocked a few more joints.  They were slower songs.  I think someone swung on A$ap_something after he stage dove.
Rocky said something about 'someone hitting his brother'.  The Mob sized up who it might be and then jumped into the audience full-force.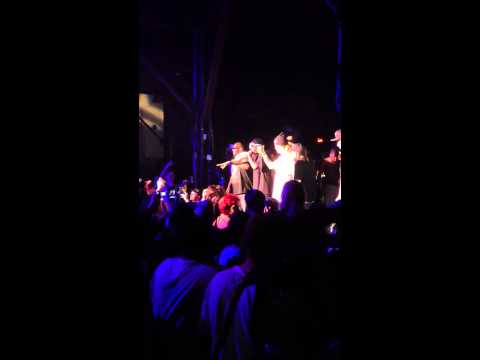 It was intense. But over quickly. A culperit may have got snuffed on stage. Not sure.
The one thing that bums me out is that people aren't gonna talk about how Trash Talk just had their own mini-riot earlier before A$AP and his people went on. The Sacramento HC band had the room moshing, circle -pitting and in general acting in a frenzy. Outside of the pit pretty girls in small shorts were grinding to songs on the AWAKE ep like it was a new Timbaland joint or something. At the end of Trash Talk's set they asked the kids moshing to run from the stage to back of the hangar where the drinks were.  (1/3 of the crowd obliged. 1/3 got herbed. 1/3 swerved and laughed their assess off at the stampede.)
So when A$ap came on and played joints like 'Wassup" the crowd hod been warmed up correctly for them..
My point is it was already a fun night.And aside from a couple eye jammies no one got hurt.