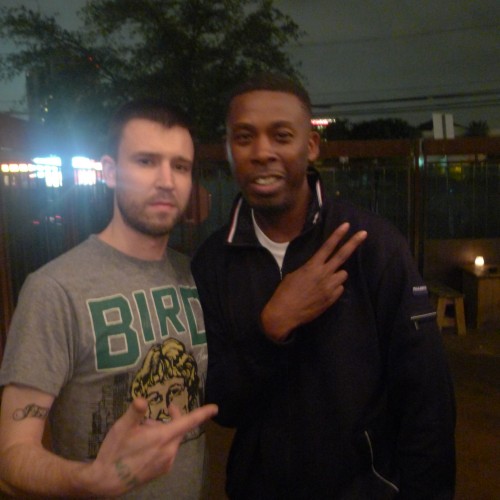 Tired as fuck, I walked out of the "Killer Mike R.A.P. Music Showcase" Wednesday. After getting outside, I wondered why DJ Detox was bullshitting and not outside.  I walked back inside and he was making small talk with the GZA.
When I found the GZA and Detox, a small crowd had also found the GZA.

FIRST THINGS FIRST,  I found out I was going to SXSW about a week before the Austin Music Industry Trade Show. My main job was out of town on a cruise, and a friend had rented a car and rented an apartment in Austin. So I went to where the internet meets every year. I had no wristband and no real plan. I had also not been on a vacation that was longer than 4 days since 2006.
So trying to be the number #1 blogger was also not a concern of mine.
When we went out early Wednesday,  I quickly questioned why free beer, and seeing some band that would come to Columbus in the next 6 months was worth going out at 2pm.
The Unholy Two @ Beerland @ Can't Stop the Bleeding Wednesday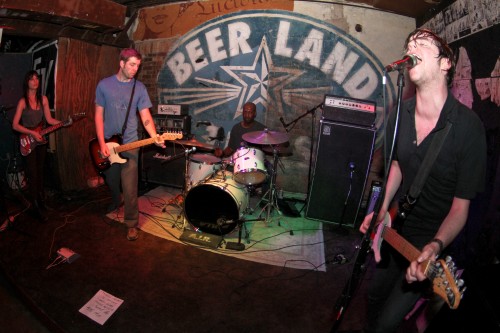 (photo credit Danielle Kline)
I was also there to cover bands from Columbus for the Other Paper.  So we hit up The Unholy Two  at Beerland,  Read the Other Paper story for that.
Killer Mike's "R.A.P. Music" Showcase Wednesday Lustre Pearl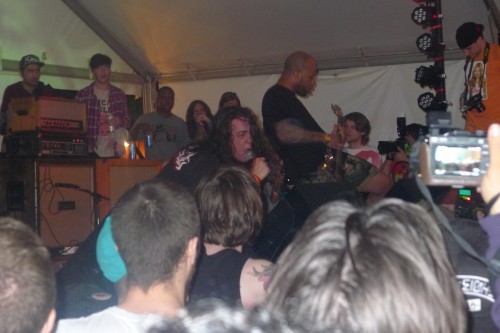 Above is a picture of Sacramento hardcore band Trash Talk @ the Killer Mike Showcase. Dudes brought the perfect energy. They had kids moshing and moving. But it wasn't overly macho or hostile. Just kids having fun.
It appeals to me in the same manner Municipal Waste does. HXC partyband.
I also have to be greatful to Trash Talk because they snuck me in the back door when the lady at the front door said no one without a SXSW bracelet or badge would be allowed in. Basically, dudes were loading in and I asked if could help.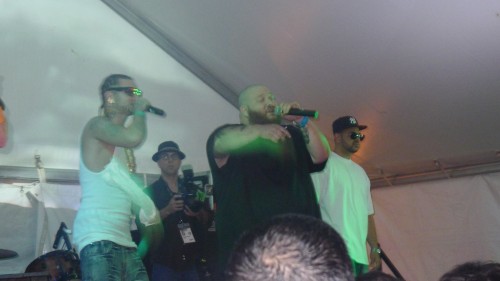 After sneaking in, I got to see G-Side, Davinci, and Action Bronson. 
Have you ever had a friend that wrote graffiti or Skateboarded that was also a Chef? Dudes can cook, and are hella meticulous about what they do. Like a dude that  could hook up the illest meals and could also rock a piece with a proper style and color combo. He was also a bit of a perv/scumbag because of the nihilism/cravings that come into play with being a chef.
Well, Action Bronson is that dude except he raps exceptionally well instead of writing graff. He rocks Ghostface Killa's rhyme style real proper.  He is also fat because he does not burn calories running from the police and climbing shit. I mean all this as compliment. Action Bronson brought out S.O.D. Riff Raff  which adds humor to the whole presentation.
After Action Bronson, MR. MFN eXquire, Wavves & Trash Talk:
Prodigy came out. He rocked a few joints and then was joined on-stage by Big Noyd!  Fucking Havoc  then showed up to rock "Shook Ones Pt 2". After watching a hardcore band hearing Mobb Deep classics was perfect.
Let me reiterate that the energy that Trash Talk set-up made this fun not some tough guy needs to go on slim fast and learn to smile type affair.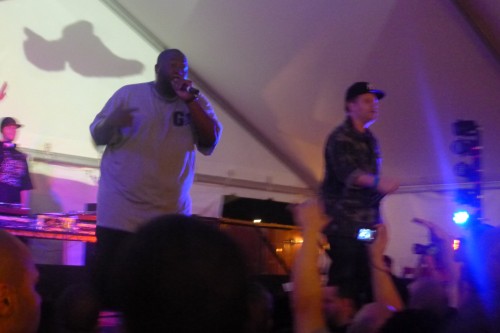 It was Killer Mike's party to celebrate his upcoming album R.A.P. Music album.  Killer Mike came out and kept the momentum with his verse from "Neva Scared". He also did his verse from Outkast's "The Whole World".  We also got blessed with "Burn". Mike brought out El-P do their song from "R.A.P. Music". Towards the end of his set Killer Mike brought out some dude from Little Rock that said he was under investigation or some shit so him and Killer Mike had to keep a distance. But they wanted us to know it was 1hunnid between them. That dude rapped. Killer Mike finished his set with "Rick Flair"
One Be Lo @  I Have No Idea Where I Was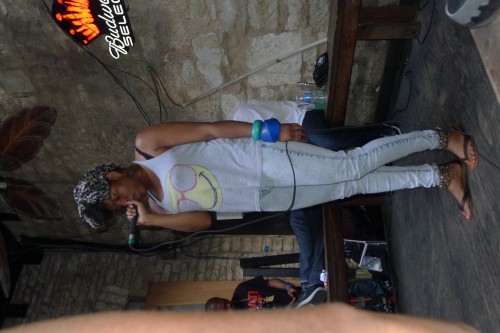 Somehow during the day Thursday we ended up randomly walking into bar where One Be Lo was playing.  It was in the back of bar on a patio. He played from the floor and the mood was genuinely hype for an afternoon show at SXSW.  A crowd was huddled around the Michigan rapper. He did that one joint that says "Even if I diss you I am still being sincere."  I recalled how Lo used to play in Columbus all the time.
I am guessing he has been steady working under the radar since then and it was kinda dope that he still draws a crowd despite no real hype.
Fly Union @ Leaders of the New Cool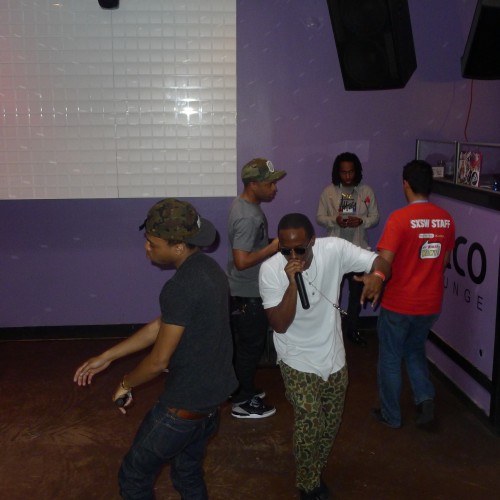 We met up with Fly Union at the "Leaders Of the New Cool". They rocked in front a small crowd. It was cool. But their better showcase happened later that night when the Columbus, Ohio rap trio played with Kendrick Lamar, Schoolboy Q, Absoul and few other at the TDE Showcase.
We missed that unfortunately cause I needed to slide over to the Vice/Noisey Show at the Parish.
Bass Drum of Death @ Vice/Noisey Showcase The Parish Thursday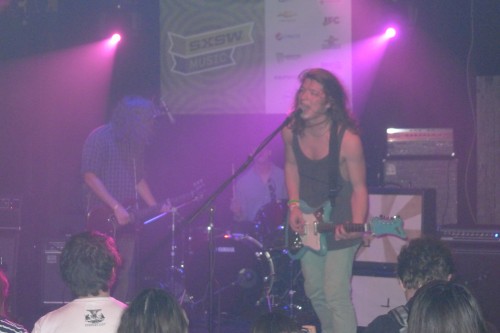 Last time Bass Drum of Death played Columbus, I got to the Summit  late and missed the show. So I was stoked to catch them at the Vice/Noisey Showcase. I was under the impression they were a two-piece but for this show they had three people on-stage. It was pretty straight-forward, raw garage rock n roll. Bass Drum of Death's show was aptly executed without any kitsch.  I prefer garage-rock that way because I am not really with the whole Eddie Munster vibe some garage rock bands try to pull-off.
Sometimes I forget that Vice might like absurd and funny- ass shit but they also tend to gravitate to the legitimate. I DO think Noisey should do a video where Bass Drum of Death shows people how to make a Gravity Bong. Maybe with Wiz Khalifa or Juicy J or something.
Sundown @ the Austin Men's Facial Hair Club @ the Grackle Thursday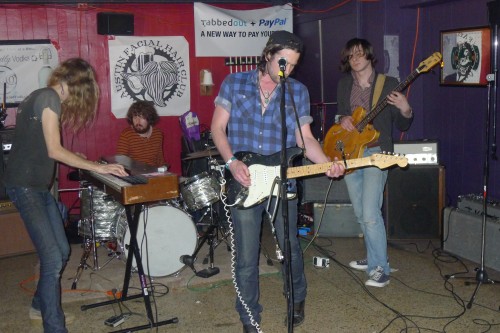 TK Webb, Dusty and the Sundown dudes  got in where they fit-in at the Grackle. At some point in their show, someone's equipment started fucking up. You didn't really notice sound-wise but there was some rapid movement onstage to compensate for something going awry. The quick fix while performing didn't take away from the psychedelic rock n roll molasses sound and  lived-in lyrics. Dudes are vets.
Troy Ave @ the Interscope Showcase
We met Fly Union up at the Scottish Rites Masonic Temple for an Interscope Records Showcase in some area Austin cabs had no interest in. I'm not saying it was bad area. I am just saying some reason Austin cabs only like to go North.
The Interscope Showcase was hosted by Peter Rosenberg and deejayed by Jasmine Solano. There were alot of acts. I was stoked to see Troy Ave who performed dressed like someone who left BK to make money in the L.E.S. He was dope. DJ Blaqqstarr sat in front of us.
Eventually, the L.E.P. Bogus Boys performed. I had a subconscious rule that I would never listen to the L.E.P. Bogus Boys until I heard them in person somewhere.  Until this moment, they were an internet thing that dorks that I thought was for dorks that used to listen to Anticon tried to validate themselves through.
I never want to hear,  'You should like them because they sound like Top Authority or the Dayton Family'.
How about I never listened to fucking Top Authority?
Anyway, the L.E.P. Bogus Boys were decently rowdy. Some sort of fight broke out before or after their set. I don't think L.E.P. was involved. I will fully admit that dudes can  kick my ass, and come from a pretty raw place.
Busdriver & Zero Star @ Project Blowed @ the Frontier
The 17 year-old me had to see my dude Zero Star play a Project Blowed event. I honestly had never checked into Busdriver super-hard but he killed it. It was dope to see someone style in their proper setting.
Beanie Siegal had showed up earlier in the evening allegedly  iso dro or drugs.I guess no one had that for him. But there is something amusing about Beanie trying to find herb at the Good Life.
Talib Kweli, Smif N Wesson, Buckshot & Pharoah Monche 2012 SXSW Showcase
The true winners of SXSW 1997…j/k. We got to see classic joints rock. The above video has Kweli rocking "Distractions", Smif N Wesson doing "Sound Bwoy Burial", Buckshot asking "Who Got the Props?' and Pharoah Monche doing an accapella before "Simon Says". Jean  Grae was cool but I was mad tired by the time she came on so I sat down and watch from the distance during her show.
One might say, SXSW is for new ish…
I avoided anything I had seen live back at home in the past year unless it was Columbus-related. So as much as I love Danny Brown, Kendrick Lamar, and  Big K.R.I.T. I saw no real point to go out of my way to see them just to make sure my blog didn't looked dated. (If you want to read about how their live shows are please click on their names by all means.)
Tennis @ the Hype Hotel Saturday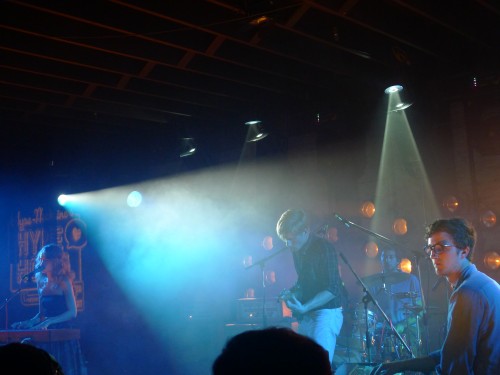 Tennis was real sweet, poppy and melodic. Have you ever had a conversation with a girl and suddenly realized she was really well-dressed and educated? When I mean well-dressed I mean a layering of thrift-store/vintage clothing mixed in-style items from Easton. When I say educated I mean she reads like James Joyce and New Yorker. Tennis sounded like that.
Wavves @ Hype Hotel Saturday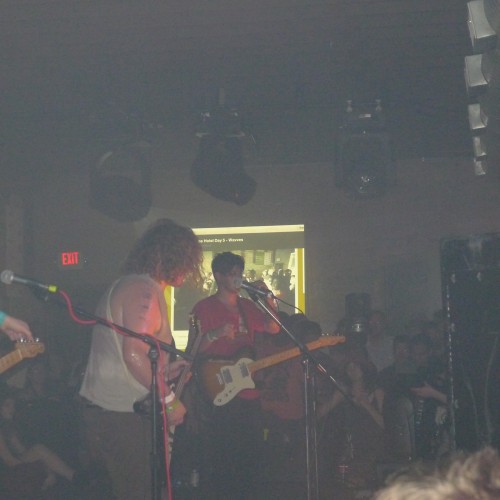 I discovered how big Best Coast is at this moment. There was a huge line outside the Hype Hotel. We got there in time to see English band Fanfarlo warm the crowd up well.
Best Coast performed before Wavves. People were really stoked. Best Coast's frontlady Bethany Cosentino made banter with the crowd in a manner someone does when they are adored. She did a new song, and also chugged a drink.
Nathan Williams and Wavves followed. Dude made banter about Wendy's and Taco Bell before rocking "Bug", and "Idiot". Nathan also did some crowd surfing thing were he would stay standing up and kinda road the crowds hands like they were a bank with ledge to grind.
A$ap Rocky @ Vice Kills Saturday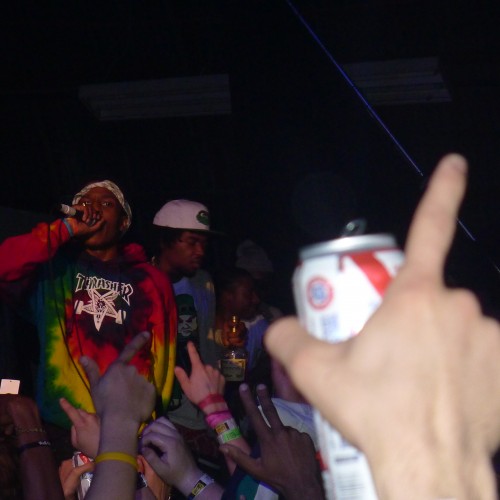 I think this one has been covered.
MP3: Purple Swag_ Chapter 2 ft. Space Ghost Purp
Side note: I also avoided all dance events because while I completely understand why everyone is playing dubstep; I saw no reason to listen to it when I was out of town.