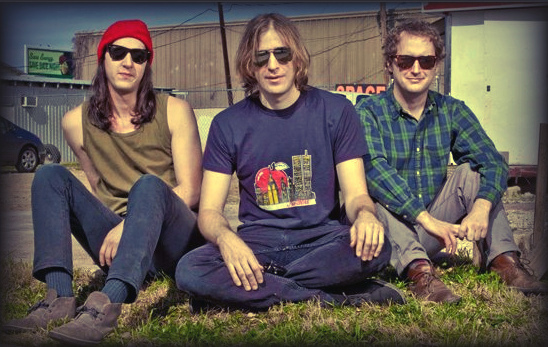 Can't really knock it when you've scored the opening slot on a buzzed-about tour even if the only consumable music you have out there for people to preview before seeing you is a 3-song EP. Hundred Visions have found themselves in the honored position as the guests of fellow Austin-ites White Denim for a round of touring that drops them into The Basement on Wednesday night (4/18).
While hanging out in Toronto early this week, Hundred Visions singer Ben Maddox answered some questions about his band, Austin, White Denim and his love (or at least appreciation) of Pantera.
Word on the street is that White Denim is hot shit live. Do you concur?
That rumor is fucking founded. I used to watch them at clubs in Austin before we started Hundred Visions and be equally inspired and discouraged by their show- inspired to start my own band, and discouraged that I might never be that good.
Those who have Googled "Hundred Visions" have hopefully stumbled across the Bandcamp page and have digested the 3-song EP you've got up there. What's the best you can expect for out of a crowd whose only exposure to Hundred Visions thus far has just been a trio of songs?
Hopefully to dance, to bob, to move. Something like that.
What can you tell us about the full length that you've recently recorded? Is the EP a good representation of what Hundred Visions really sounds like or will listeners be exposed to the full picture once they hear more songs?
The EP is a pretty good representation of what will be on the full length, all though the song "Last Cab from Tunis" was a bit of an oddball for us.
I just read a short Hundred Visions feature on the PatriotLedger.com. I don't know that I'd call you "psychedelic garage rock" but I do think I hear the "garage" part of the equation. There's a dancey, party element to the songs and I don't really know crap about the Talking Heads, but I'd say that if forced at gunpoint to describe your sound (particular on "Last Cab to Tunis"), I'd definitely reference the Talking Heads. When your mom says, "Honey, the neighbors want to know what your band sounds like", how do YOU describe the music?
I just say "rock music" always. We feel pretty free within the constraints of that term.
In that same article, you mentioned being into Pantera. I hope that was sincere. 'Vulgar Display of Power' is probably my favorite HEAVY metal album of all time. I can fortunately say that I was not at the Alrosa Villa in Columbus the night Dimebag was killed, mainly because I didn't really like Damageplan. I'm not sure I really have a question, just thought I'd mention that I love Pantera!
We are from small Texas towns and Pantera is pretty hard to avoid there. Wes and I loved them growing up and Johnny is a hardcore fan.
I've been to Austin for SXSW 4 or 5 times and on the flight back to Columbus, I always say, "If I lived in Austin, I'd go out every night and see live music." I know it's not as crazy there outside of SXSW, but how many nights a week are you out seeing live music? Do you have favorite venues to see music at? Do you typically go out to support your friends' bands or are you checking out touring bands passing through the area?
I go to shows pretty regularly- Austin is the kind of town where your boss is in a band so you find yourself going out quite a lot.
What are some Austin bands that you think people should know about?
ELVIS, Kay Leotard, TV Torso, OBN IIIs.
Every time I've been to SXSW, I've eaten at least one burger at the Jackalope. What are some of your favorite places to eat in Austin? While on the White Denim tour, will you be trying to find the popular local spots to grab a bite to eat or is this going to be a fast food and truck stop diet tour? (Columbus is filled with great little restaurants not too far from the venue you're playing. If you're looking for a good mix, I'd suggest the North Market – with about a dozen or so different places to eat – about two blocks east of The Basement – on the other side of Nationwide Arena).
Thanks for the recs, we will definitely check those out. We always try to go to cool, local places wherever we go- but I must admit we eat a lot of crap on the road. We ate at a TGIFridays last night.
Do you know anything about the Columbus music scene? Anything at all?
I like Times New Viking, but sadly I can't name anything else off the top of my head.
What does the rest of 2012 have in store for you? Do you see yourself doing another round of touring throughout the U.S. once the full length is released?
Yes, I see us touring quite a bit in the fall after we release the full length.