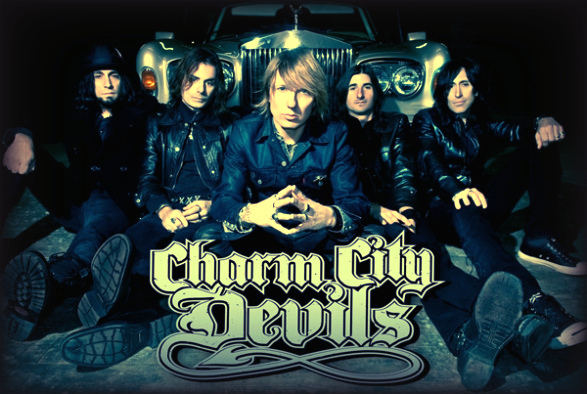 Charm City Devils play a low-dough show ($5) at The Basement on Sunday night. Doors are at 7pm.
The legacy of late '80s/early '90s hair rock is alive and well in Charm City Devils' sophomore release, SINS, released earlier this month, though the John Allen-led band brings enough modern flair to the 11 tracks to be considered peers with artists like Shinedown, Theory of a Deadman, Egypt Central, and Five Finger Death Punch.

Allen and guitarist Nick Kay got their start in the late '80s in the Baltimore band Child's Play (watch "Rat Race" from the 1990 album of the same name) and did the requisite touring in shacks such as the Alrosa Villa and the Empire Concert Club in Cleveland where I saw them with Every Mother's Nightmare.
After a stint in SR-71, where Allen helped write "1985", a track Bowling for Soup would cover and turn into a hit, the drummer got out from behind the kit and started Charm City Devils as the lead singer. The band caught the attention of Motley Crue's Nikki Sixx who signed them to his Eleven Seven label and released Let's Rock-N-Roll in 2009.
The songs on SINS, released on the band's own Fat Lady Music label, sound like a mix of Velvet Revolver and Bon Jovi – working class rock n' roll that should fill every inch of packed arenas. From the propulsive opener "Spite" to the bluesy stomp of "Devil is a Woman", SINS should appeal to those – in this era of autotuning and keyboard-driven pop drivel – who miss the lack of guitars in popular music. Of note is the much-buzzed/much-blogged about first single, a modernized take on "Man of Constant Sorrow" originally found on the "O Brother Where Art Thou?" soundtrack. It's an interesting take but not even my favorite song on the album – I'd go with "Blame" or the power ballad "All You'll Ever Need" (there can never be too many power ballads, in my opinion!).
If you're a Spotify subscriber, you can listen to SINS below (if you don't have Spotify already open, it'll launch for you).