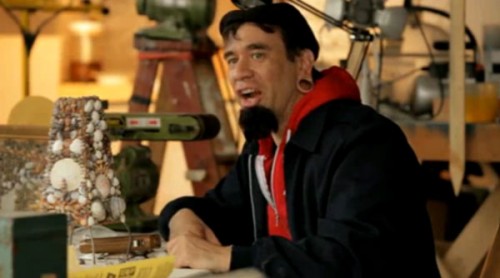 This Irish Times article titled "Why Record Store Day can't bring the good times back" was the final straw in a series of bah-humbug complaints posited by music fans about Record Store Day. Of course the day has its faults, and of course it can be abused, but I've yet to hear an argument that convinces me it's a bad idea. The arguments usually go like this:

1. "Record shops are not just for Record Store Day."
True. But that's a pretty terrible reason to be a Scrooge about a day that brings in money for the record stores that so-called True Vinyl Collectors frequent all the other weeks of the year.
a.) It's snobby and smacks of the type of record-snob elitism that keeps average Joes out of record shops.
b.) I've spoken to several shop owners who say that every year RSD brings new people into their shops, and a good chunk of those people then become regular customers, which means that this complaint is actually an argument for RSD.

2. "All the limited-edition releases are snatched up early by greedy hoarders who put them upon eBay."
Well, not all of them are, but this certainly happens.
a.) Whether a person puts RSD releases on eBay or not, the shop still makes money on that purchase. True, the markups mean it's harder to make as much money on each RSD release, but there's still money to be made for the stores, and that's never a bad thing for shops that we'd all like to see succeed.
b.) eBay poachers exist in any market that has the potential for words like "vintage" and/or "exclusive" attached to it. It's a combination of collector fetishizing and supply & demand. The fact that poachers exist should not be a measure of a product or event's inherent good-ness or bad-ness.
3. "The releases suck. Who needs or wants Katy Perry on vinyl?"
a.) Just because major labels are getting in on RSD to make some cash doesn't mean all the releases suck. Richard Buckner never released a 7-inch before last weekend, but now he has, and now I have it. And it wasn't hard to get. (RSD is perfect for musicians who have a small but loyal fan base.) Plus, local bands have realized there's a built-in market on RSD and have begun self-releasing on RSD. Columbus bands Moviola, Cliffs and others did so this year.
b.) It's pretty easy to go to a record store and not buy things that suck.
c.) Shop owners: Don't put in an order for Katy Perry.
4. "Music is about community, and that community has moved online. RSD can't bring that back. It'll never be like it used to be."
Boohoo.
a.) Just because something will never be like it used to be doesn't mean there shouldn't be attempts to preserve what's left, and perhaps regain part of what used to be there. I don't get the same thrill from throwing a baseball as I did when I played little league, but that doesn't mean I can't still enjoy throwing a baseball.
b.) I like that I can go to Lost Weekend Records and see Blake Pfister and ask him what's new with Moon High. Sure, I get Moon High's event invites on Facebook (a quasi-helpful, necessary evil), but that doesn't give me the whole picture.
c.) It's not all or nothing. Yes, the digital realm will keep growing. Most people will comment on music blogs and click "download" more than they buy vinyl. But that doesn't mean record stores can't exist alongside all that. In fact, it's a good argument that they should exist (hence the idea of RSD in the first place). Community doesn't have to be like it used to be. Nostalgia shouldn't dictate the future.
5. "It's more of a pain than it's worth." – Mr. Shop Owner
I don't run a record store, so I guess I can't argue too hard against that if it's truly too much trouble for a particular store. I guess if you're a shop owner who's established and doesn't need RSD, then RSD isn't really for you. Locally, Magnolia Thunderpussy didn't do much for RSD this year, but the shop doesn't really need to. It's been in business for more than 40 years and has a steady stream of customers who go there as much for posters as music. Still, a couple things:
a.) RSD is what you make of it. Shop owners can look at it as a reason to have sales on regular stock, or book a DJ or band(s) to play in hopes of drawing people in, etc. Chances are, even if a shop doesn't have exclusive releases, fans will stop by for RSD sales. That's money and, again, a shot at converting RSD newbies into year-round customers.
b.) You don't have to take out a loan and place a massive order of RSD exclusive releases to have a successful RSD. A small, smart order will likely get people through the door. Know the tastes of your clientele. If Grateful Dead LPs sell well at your shop, you should probably pony up for that Phish thing. If not, don't waste your time or money. It's not your base.
c.) If nothing else, RSD gets a lot of press. Music fans hear about it, which means it's essentially free advertising for shops and a reminder to the community that, "Hey, we're still here, and we may have something you'll like. Come support."
All that to say, if you hate RSD because of the lines, the potentially predatory "exclusive" releases, the cash-grab/corporate aspect introduced by the majors in the last couple of years, etc., then RSD isn't for you. And that's okay. Chances are, you hate all that stuff because you crate-dig on a regular basis. You don't need someone to entice you into stores or hold your hand while you're there. But guess what? You're in the minority. Just because RSD isn't tailored to the True Vinyl Collector's needs doesn't make it a bad idea.