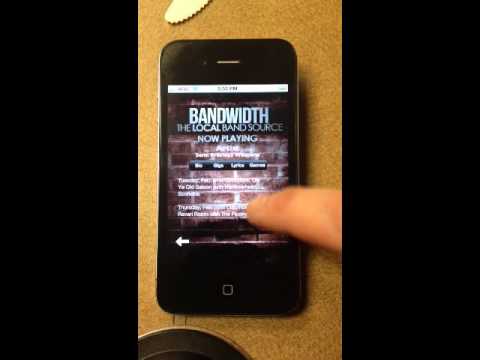 In the past month, I've seen more and more Internet entrepreneurs get into the streaming radio game, but with a local angle. These three, in particular, have potential for people who want to listen to music coming out of their hometown. Columbus bands: These ventures are still in the beginning stages, and they rely heavily on bands creating their own profiles, submitting their own music, etc. So if you want to be heard in this way, follow the links and get in touch.
Bandwidth
Bandwidth isn't finished yet, and the name is just a working title, but you can see a demo of the app in the video above. The app is the brainchild of Bullet Jones singer Ryan Cox. He explains it this way: "Bandwidth is essentially Pandora for local music. Specifically, it is a free music/radio streaming app with content comprised entirely of local musicians from around the country. A listener will be able to populate a streaming radio station on any number of criteria, including genre, locale, similar artists, etc. So, for instance, if I were so inclined, I could listen to a station with all of the rock bands in Chicago, hip-hop acts in New York, or country artists in Nashville."
Cox is hoping for a closed launch in Columbus this summer and a nationwide release next year. Bands can contact Cox [ryanpatrickcox at gmail.com] to submit music.
ColumbusLocalMusic.com's "CLM Radio"
Columbus Local Music launched in January with the tagline "Listen Local." According to CLM, "The website suggests local artists to listeners based upon personal preferences. After a listener specifies their favorite musical genres and bands, the website can use that information to make suggestions from their catalog of Columbus artists and bands. Suggestions are made based upon listeners "tagging" bands as sounding similar to more well-known artists. With each new "tag" the service gains a better understanding of what a band sounds like, which will in turn help others discover their music."

The site has now taken "Listen Local" one step further with "CLM Radio." CLM's Dave Walters, who also plays in local act The Olde Souls and the Makeshift Band, explains it this way: "Directly from their customized radio station, listeners can "follow" a band to receive regular updates on them, see their next upcoming show, and give feedback on the current song playing. This feedback is then used to fine-tune the stream to better match the users' individual tastes."
CLM currently has more than 240 bands, and a mobile app is in the works.
DeliRadio
DeliRadio is a "location-based streaming music app that lets you create a radio station of bands playing in (or living in) a specific area. So, you can basically create stations of bands of a specific genre, playing in a specific city, or at a specific venue(s) or festival… Fans can buy tickets to the shows right from the app, and bands can sell music and/or offer free downloads."
The pool of Columbus bands on this app is pretty shallow so far (it may be better in other cities). But to hear touring bands coming to town, I made a custom station called "Columbus shows" that only plays songs from bands that have upcoming shows within 50 miles of Columbus. I was impressed to see that it didn't just draw from PromoWest and arenas. The station also played songs by bands coming to smaller venues like Skylab, Kobo and Cafe Bourbon St. You can try it out here. Bands and listeners can also use the mobile app for free.