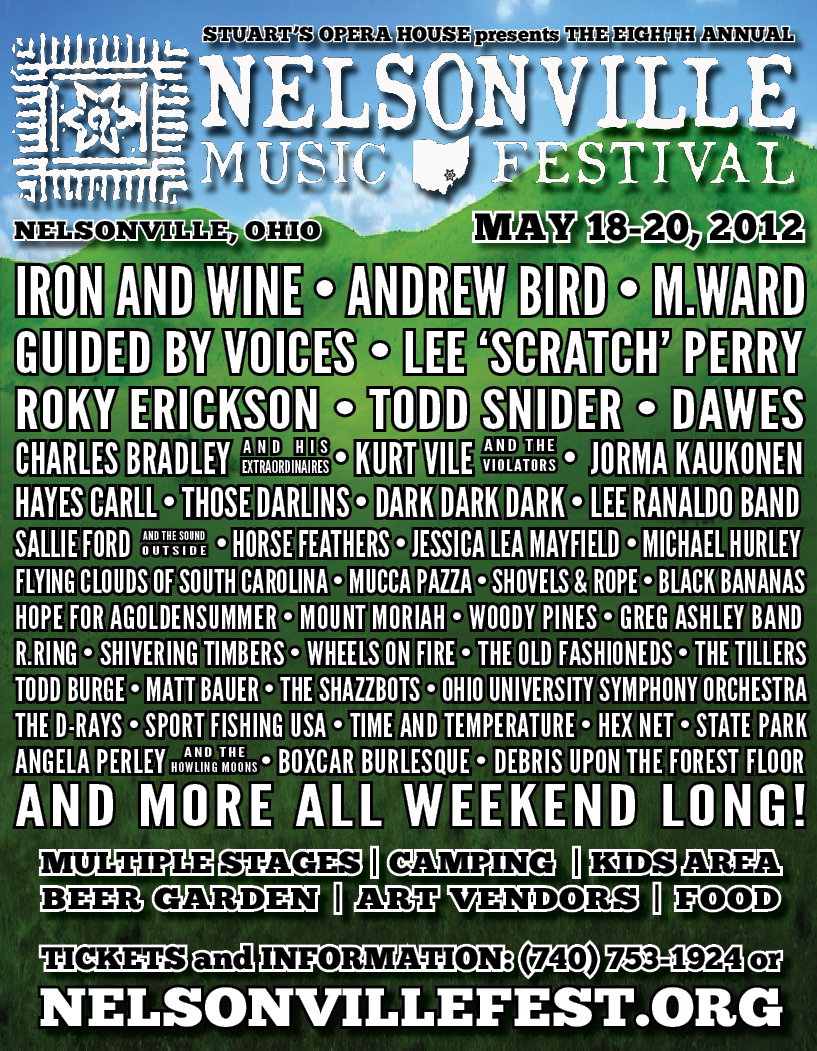 Nelsonville Music Festival heads into its 8th year with another impressive lineup. Lee 'Scratch' Perry, Roky Erickson, M. Ward, Andrew Bird, Iron & Wine, and many more are all slated to play Ohio's finest fest. Oh, and as Duffy posted, the pride of Dayton, OH — Guided By Voices — was just announced as well (classic lineup).
The obscure surname may have some scratching their heads, however, I can assure you the Nelsonville locale is what makes this event. Seeing artists of this caliber amongst a backdrop of Appalachian foothills rightly gives festival-goers the sense they are witnessing something very special. Plus, any jaded art wangler knows obscurity is vogue, yo, so go! It truly is an experience. Go here to purchase tickets and here to view the full lineup. If you wish to camp, you can purchase camping tickets here.
Below is an interview with Nelsonville Music Festival's Founder/Stuart's Opera House Executive Director Tim Peacock and NMF Marketing & Promotions Coordinator Brian Koscho:
NMF takes place in a humble, idyllic area of the country. Do you have any memorable reactions from artists when they first pulled in to play the fest?
TP: The reactions are usually more about their experience than place. When some artists arrive in Nelsonville, they must wonder where the hell they are going. They are almost pleasantly surprised to find we have a killer little festival that is not a hassle for them. Our crew is professional but laid back and they love that. We go out of our way to take good care of them and they see that and comment on it. Every year we get more and more submissions from agents who want their
other bands to play Nelsonville, so that tells us we are getting good feedback on that level as well.
BK: Tim is correct! I think it is mostly how they respond by the end of the weekend, that's when you realize how special the event really is. Aside from that I remember a couple reactions in particular… Sean Lennon (who played last year with Ghost of a Saber Tooth Tiger) seemed very surprised at all of the nature, asking us quite a bit about what kind of bird we had. And Glen from Swell Season (in 2010) was very, very happy that we had a big jar of "American Peanut Butter" as part of their hospitality. He took it with him on the road when they left.
What separates Nelsonville Music Festival (NMF) from other music festivals?
TP: I believe the intimate size of NMF is its biggest selling point. The eclectic nature and quality of the lineup are our biggest attributes. Not many festivals this size have as diverse offerings. Most smaller festivals are themed, genre-wise. We just try to focus on good and sometimes important music. By important I mean artists that have a significant/important legacy. This year I would use Roky Erickson as that example, last year it was George Jones. And, people love the No-Fi Cabin!
BK: Just like Tim mentioned, I think the biggest thing is the diversity. And the atmosphere is huge, too. This is not a over-sized corporate music festival and that is clear to any who have attended. We work hard to have a comfortable atmosphere and do a lot of little things (Kids Activities, No-Fi Cabin, Local Art Vendors, Lighting in the cabins, Green/Zero Waste Iniatives, and countless othere) that add to that feeling and make people feel at home.
When did the festival start?
TP: 2005. It was a one-day event on the Nelsonville Downtown Square.
BK: 2005 right here on the Square in Nelsonville (and before my time), it was a one-day event (Dirty Dozen Brass Band headlined the first year) and continued to be a one-day festival in 2006 and 2007 but it moved to a different location in Nelsonville. Since 2008, we have done it as a three-day event at Robbins Crossing on the campus of Hocking College.
How many people attended the first NMF? How many people attended last year's NMF?
TP: In 2005 I think we had around 700 people. I can't really remember for sure though. Last year we had around 6,000 total.
You've had everyone from Willie Nelson to Loretta Lynn to Flaming Lips play the event. When you first launched NMF, did you anticipate it would grow to this level?
TP: I don't know that we anticipated anything when we started it. We still don't exactly know what to expect, but we have a better understanding of it as a whole.  We have made a conscious decision to keep it from getting what I consider huge. For now, we plan to not sell more than 6,000 tickets, keeping the intimate and laid-back atmosphere in tact.
BK: I wasn't here when the festival first started so I cannot speak to that directly. But, I know one thing the festival was started to do was to bring what Stuart's does to a larger audience: to have artists play who maybe we could not fit in the Opera House, and also to make people more aware of our work. With that in mind, I feel like we have progressed naturally and with those goals still in mind. Stuart's has always consider ourselves part of the economic development of our community here in Nelsonville, and the festival helps with that too. We love that it brings people down here for the weekend, and hopefully they come back every year.
What are your most memorable experiences from past festivals?
TP: There are many. It was pretty exciting the year Willie played and meeting him, you could definitely feel something changing from what we had been doing. Last year, Wayne Coyne came to the No-Fi Cabin in the pouring rain, wearing a bright yellow rain poncho to watch Samantha Crain play (she's also from Oklahoma City). Watching Sharon Jones seduce Billy Joe Shaver's young, and I mean young, guitar player on stage was really a moment.  Mudhoney playing ping-pong in the back stage tent. Man Man and their flesh light. Ha…..
BK: Oh man, there's a lot for me here… Meeting Mudhoney in 2009 was pretty crazy, and of course watching Willie Nelson play that year too was a pretty unique experience. Tim is right. You could feel a very good change coming out of that. Getting to see all sorts of wonderful people that I only see once or twice a year is awesome too, and of course all of the happy strangers, too. And watching Yo La Tengo and then The Flaming Lips last year was incredible.
————-
Be looking for features on many of the bands plus a piece on the Zero Waste Initiative NMF is employing. Yes. Below is the official press release sent upon the announcement of GBV:
NELSONVILLE, Ohio- Stuart's Opera House presents the 8th annual Nelsonville Music Festival, May 18th-20th at Robbins Crossing on the campus of Hocking College in Nelsonville, Ohio. Recently, we received the unfortunate news that Bad Brains would have to cancel their appearance at this year's Nelsonville Music Festival. But, we think we have managed to find a band to help fill those shoes… legendary Ohio underground rock band Guided By Voices will join the 2012 lineup on Friday, May 18th with their "classic lineup"! The weekend will feature over 50 bands on multiple stages including Iron and Wine, Andrew Bird, M. Ward, Guided By Voices, Roky Erickson, Lee "Scratch" Perry, Todd Snider, Dawes, Charles Bradley & His Extraordinaires, Kurt Vile & The Violators, Jorma Kaukonen, Hayes Carll, Those Darlins, Dark Dark Dark, Lee Ranaldo Band, Sallie Ford & The Sound Outside, Horse Feathers, Jessica Lea Mayfield, Flying Clouds of South Carolina, Michael Hurley, Mucca Pazza, Shovels & Rope, Black Bananas, Hope for Agoldensummer, R.Ring, Woody Pines, Greg Ashley Band, Mount Moriah, Matt Bauer, The Old Fashioneds, Todd Burge, Shivering Timbers, Ohio University Symphony Orchestra, The Tillers, Southeast Engine, Wheels On Fire, Sport Fishing USA, The D-Rays, Time and Temperature, The Shazzbots, Hex Net, State Park, Angela Perley & The Howling Moons, Boxcar Burlesque, Debris Upon The Forest Floor and more still to be announced! In addition to music all weekend long, we are hosting a special Festival Kickoff on Thursday, May 17th at 6:00pm with free admission on Thursday night, live music, food, beer garden, and more. Weekend passes, single day tickets, VIP upgrades, and camping passes are all available at www.nelsonvillefest.org or by calling (740) 753-1924.
Set in the beautiful rolling hills of Southeastern Ohio, The Nelsonville Music Festival continues to be one of the best in the region and one of the most unique festivals in the country. Catch live music on multiple stages from national, regional, and local acts including a small "no-fi" cabin where artists play acoustic sets with no electricity and an intimate audience. The Nelsonville Music Festival partners with Rural Action to make this event one of the "Greenest" festivals around, working to make the festival Zero Waste by using recycling, composting, and education. A large Kids Area includes live performances, workshops, art activities, and more and regional art vendors fill the grounds showcasing and selling their work. There is a campground on the festival grounds as well, offering primitive and RV camping.
Past performers have included The Flaming Lips, Willie Nelson, Loretta Lynn, The Avett Brothers, Neko Case, Yo La Tengo, George Jones, Mudhoney, Sharon Jones & The Dap Kings, The Swell Season, and many more. The Nelsonville Music Festival is a production of Stuart's Opera House, a historic, non-profit theater located in Nelsonville that features over 75 events a year including live music, theater, films, educational programming and more. You can find out more about Stuart's by visiting www.stuartsoperahouse.org.