I reviewed the latest Fela Kuti release this week in the Other Paper. The funny thing is that the artwork was done by a Columbus ex-pat and CCAD Grad Zach Jaeger. I grew up with Zach and he told me that he was working on this when I ran into him at SXSW. He has lived in New York for awhile so this fact slipped my mind until he posted this on his tumblr today.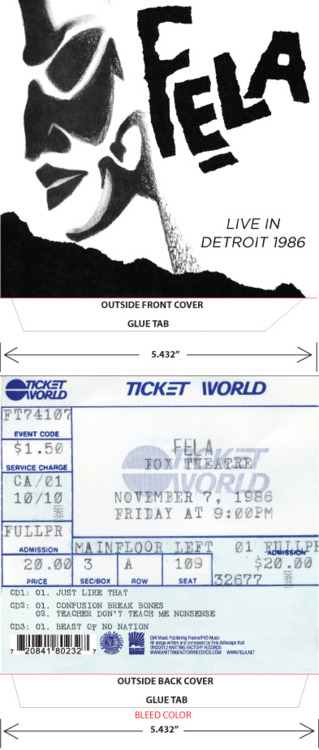 FELA KUTI "LIVE IN DETROIT 1986"

This just came out last Tuesday and is a really phenomenal album! I've been working on Fela art for over 3 years now, reviving all of the album art for re-release. This however is the first "new" record I was able to work on. We manage to get a scan of the actual poster and ticket stub for this show and used it in the packaging. The inside of the digi-pack is an adjusted version of the actual TDK tap used to record this show (I just so happened to have one of these tapes with the jacket). Although this is a pretty simple package and layout it's one of my favorites I've done to date.
You can pick up a copy of this amazing album here!
-z
listen to a song off Live in Detroit 1986 after the jump.