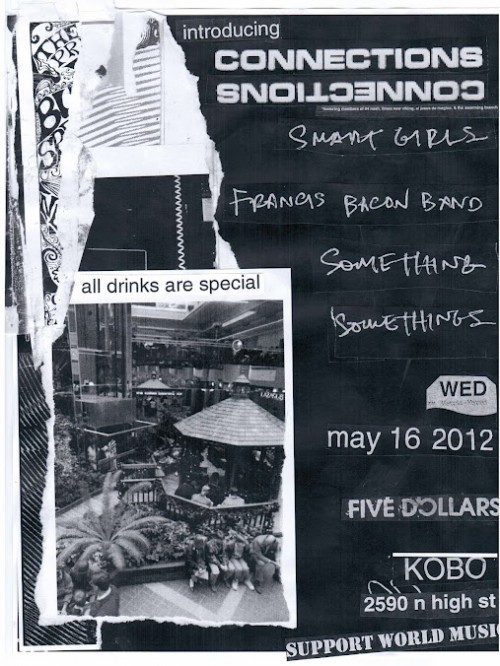 That flyer is for tonight's debut show of Connections, a new Columbus band with a noteworthy lineup: Adam Elliott of Times New Viking, Kevin Elliott of 84 Nash, Dave Capaldi of El Jesus de Magico, Philip Kim of Andrew Graham & Swarming Branch and Andy Hampel of 84 Nash. Kevin Elliott posted some Connections songs on SoundCloud awhile back, but those have been taken down because, Elliott says, "They weren't representative of what we are doing now. Until tonight, it's somewhat a mystery as to what we sound like."
Not content with just one debut show, Connections will play three in a row this week:
Wednesday (5/16) @ Kobo
W/ Francis Bacon Band
Something Somethings
Smart Girls
Thursday (5/17) @ Cafe Bourbon t.
W/ Washington Beach Bums
WV White
Live comedy from "Doin' It Wrong"
Friday (5/18) @ Double Happiness
W/ Psychedelic Horseshit
Psandwich
Jeff Fernengel (Tree of Snakes) in the lounge
You can also catch Connections at Megacity Music Marathon June 9.