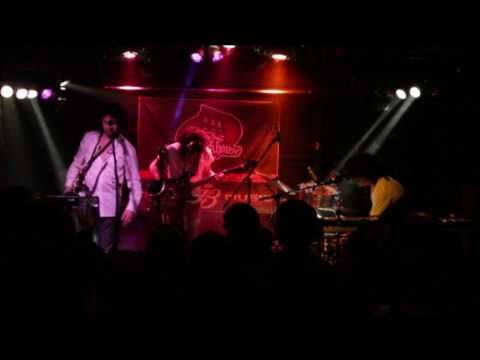 MP3: Black Truman (Harry The Hottentot)
When I first wrote about the Dead Kenny Gs here two years ago, I was still amazed that the band had released an album and was touring beyond the bars of Seattle.  They put on a great set at that show and have continued confirming their very real powers since then.  Last year they released their second album, Operation Long Leash, which expanded on the themes of fiery social consciousness from the first album while continuing the jazz-punk maelstrom.  Earlier this month they released a new EP entitled Gorelick (which you can hear some of below), the art of which references an Ohioan currently in a position of power.  After a couple of dates opening for the Primus/Gogol Bordello tour (including their stop back at the LC last week), they headed out on a week-long run of Midwest headlining club dates to support the new EP and bring the Dead Kenny Gs' message of rambunctious anti-artificiality directly to the people.
Their tour brings the band back to Columbus (for their second show in town in 6 days) for a stop at Woodlands Tavern on Tuesday.  After seeing part of a 30 minute set from afar, I am very excited to see a full set from mere feet away. Opening is Athens' Hellnaw, an Ohio band with a similar vibe.  Doors are at 8, cover is $8.
Dead Kenny Gs – "Kill The Poor" from Gorelick