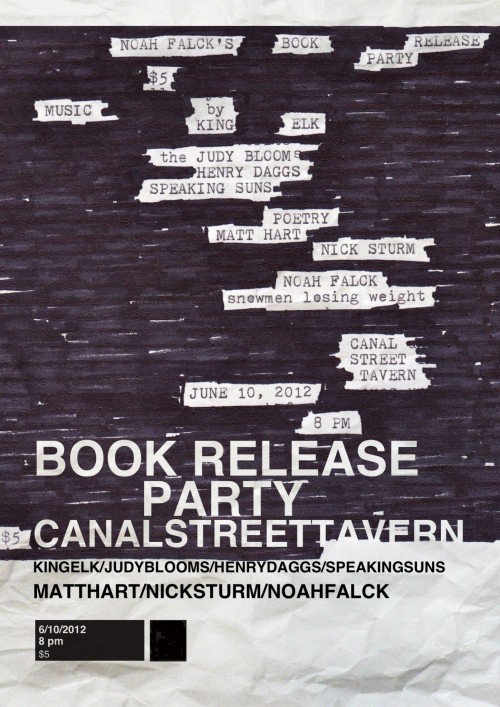 Noah Falck releases his first book of poems, Snowmen Losing Weight, this Sunday, June 10 at Canal St. Tavern in Dayton, OH. He will be joined by a host of fellow poets and area musicians (see flier above).
Falck is an elementary school teacher in Northridge (the very small north Dayton hometown of Guided By Voices' Bob Pollard). Along with a Pushcart Prize nomination, Noah's poems have spread widely in journals such as Bat City Review, Boston Review, Columbia Poetry Review, Forklift Ohio, Greensboro Review, Gulf Coast, Kenyon Review, La Petite, and Smartish Pace.
Snowmen was selected by BatCat Press as part of their 2012 series. According to their website, "BatCat Press is fully staffed and operated by the students of Lincoln Park Performing Arts Charter School in Midland, PA. Submissions are accepted during our annual reading period and are selected by students with the help of members of the BatCat Press advisory board, a collection of writers, teachers, and administrators from across Western Pennsylvania."
Impressively, the students went through the painstaking process of hand-assembling the first pressing of 75 numbered copies in accordion fashion (see picture below). It really is a beautiful artifact.
Snowmen routinely strikes in a way that makes time stand still — a quality of most great art. The poems within are both melancholic and joyful (as witnessed by the popular "5. Across").
As acclaimed fellow poet Nick Sturm says, Falck's work is "equal parts delight and dark hope, you'll feel like you've known Falck's poems your whole life. And they know you – they can see you smiling by the light of your cell phone."
You can purchase Snowmen Losing Weight from BatCat Press. Head out to Canal St. this Sunday and support The Arts!