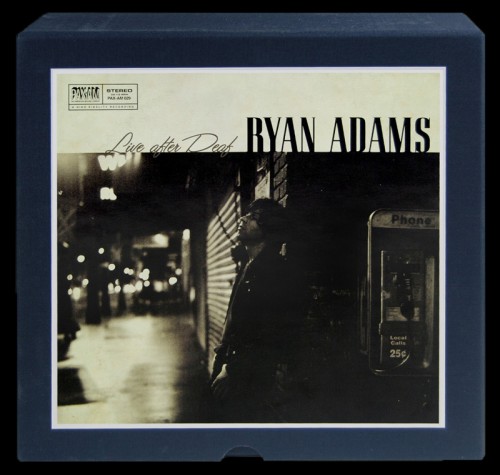 …and, according to Ryan Adams's Facebook page, it'll have 15 discs of vinyl. From the page:
Oh hey you guys, did you want more information on Live after Deaf ? OK.
144 tracks of live acoustic Ryan spread across 15 vinyl discs…with a download card featuring all 144 tracks PLUS an additional 74 digital-only bonus tracks (yup, that's a total of 218 tracks) all in a heavyweight cloth box. Super Duper limited numbers available ONLY at http://paxamrecords.com/ beginning 1:30 p.m. EST on Friday, June 15
No word on pricing, but I'm gonna go out on a limb and predict: expensive. Order through his PaxAm label.
UPDATE: Apparently Pax Am and Kung Fu Nation, which runs Pax Am's webstore, didn't anticipate all the traffic. The site crashed and never recovered, prompting this postponement announcement from Kung Fu: "Dear Ryan Adams fans, we apologize for the technical problems with the sale of Live After Deaf. The sale will be postponed until Monday, 4pm est. We will work with our hosting company over the weekend to ensure the problems are rectified well before then. We realize that a great deal of time was wasted by people clicking refresh for hours, and we were right there with you clicking refresh and pulling out our hair. We accept full responsibility for these problems and we ask for your understanding as we promise to make Monday a much better experience. Please see http://site.paxamrecords.com/news/ for full details."
Also the price will reportedly be $130 plus shipping.