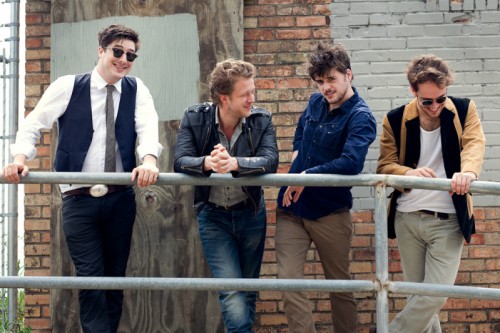 Press release, including a tour stop in Columbus:
Mumford & Sons are pleased to announce the details of a summer tour across the US, beginning on August 1st in Hoboken, NJ. The band will likely be performing new material from their forthcoming album, due out in the Fall. The tour will go on pre-sale this Thursday, June 28, and general on-sale to the public will begin on Friday, June 29. For a full itinerary, please see below.

August will also see the band performing at their "Gentlemen of the Road" Stopovers, which quickly sold out after being announced. These one-day, outdoor events will take place in four carefully-selected and unique locations across America, including the Eastern Promenade in Portland, ME; downtown Bristol, VA/TN; Page Park in Dixon, IL; and the legendary Fairgrounds in Monterey, CA.
August 1 – Hoboken, NJ @ Pier A (No Fee Ticket)
August 4 – Portland, ME @ Gentlemen of the Road Stopover
August 6 – Providence, RI @ Providence Performing Arts Center
August 7 – Canandaigua, NY @ Marvin Sands Performing Arts
August 9 – Portsmouth, VA @ nTelos Wireless Pavilion
August 11 – Bristol, VA @ Gentlemen of the Road Stopover
August 13 – Louisville, KY @ Louisville Waterfront Park
August 14 – Columbus, OH @ The LC Pavilion
August 18 – Dixon, IL @ Gentlemen of the Road Stopover
August 20 – Lincoln, NE @ Pinewood Bowl Theatre
August 21 – Laramie, WY @ Gryphon Theatre
August 22 – Magna, UT @ The Saltair
August 25 – Monterey, CA @ Gentlemen of the Road Stopover
August 28 – Morrison, CO @ Red Rocks Amphitheatre
September 1 – Snowmass Village, CO @ Jazz Aspen Snowmass Festival