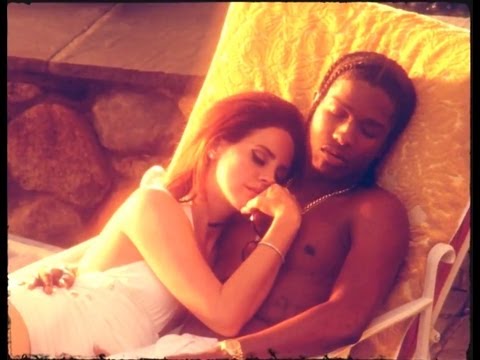 Noisey has a pretty good interview with A$ap Rocky about playing a "trill JFK" in Lana Del Rey's "National Anthem" video (above), In this interview Rocky discusses groping Lana Del Rey  while filming "National Anthem". I am a decent looking man. I have nice eyes. But I do not grope women unless I am already having sex with them and they are on the phone with someone they are related to.
But A$ap is dat pretty mfer so I imagine unsolicited ass-grabbing is situationally acceptable from him.
I watched the video several times to figure out when Rocky groped her. At first, I thought maybe he grabbed her boob because he really is never near her butt. But in the interview he definitely says "buns". Whatever the case, Del Rey  is on Rocky's upcoming album LongLiveA$AP on a song called "My Bitch", which drops September 11th.
I guess Waka Flocka Flame,  and Pharrell are among the other guests according to this interview. No word if Rocky also groped Waka Flocka Flame but I would assume he would not because A$ap is not homophobic so therefore he is not repressing an existence of latent homosexuality.
from A$AP ROCKY PLAYS JFK IN LANA DEL REY'S NEW VIDEO
I love it, yeah. I think you make a great JFK. How did it come about?
Lana wrote the treatment with me in mind. She wanted me to be the lead guy. Shit is like, everybody knows we got a thing for each other and we wanted to show that on screen. She's a genius like…. nigga look at this bitch, I wanna fuck the shit outta her. Look at her she's gotta be in her late 30s and shit… Err, Hello?

Haha. You're not talking about Lana Del Rey there I take it…
Hahahaha nah, nah, nah. Nah, I was caught in the moment man; you know me Andy, cut it out man.

Yeah I was like, "Wow, this is very forward of him."
Nah she wanted me to be the main guy and she wrote the treatment herself and came up with all the ideas. She came you with all that shit herself. And this guy Andy, nah, Anthony, what's this nigga's name…. Anthony Mandler shot it with some old cameras and shit to get the 1960s look and they had a set of extras. They had so many extras there, Interscope paid so much fucking money for this video that it's not even true.

I tell you man, on set, I never did any kind of shit like this before with this much people involved and nothing like that so when I came on set with everybody dressed like they in the 60s and shit I really thought I was in the 60s. I'm serious. All joking aside – it was so realistic, I'm like DAMN.

Yeah.
And so I got in character like, "Fuck that like, I'm gonna be the black, trill JFK." But basically I was just me, I don't really think I did JFK no justice, (laughs). I was just me and it was like, "what if JFK met A$AP Rocky?" And that's what you got. She looked like Jackie O, and I was kissing the shit out of her all day and shit.

Must have been a tough gig.
Nah that was good. I was like squeezing on her buns and all that shit. Doing all that perverted shit. (laughs) That was the fun part.

Has she got a boyfriend?
Nah, she hasn't got no boyfriend.

So, like, what's up with that?
You tell me…..

No, you tell me…
Nah, we just cool. I don't look at her like that no more. I used to wanna do her, I used to wanna bone her but after this video I don't like her like that no more, I just think she's cool, know what I'm sayin?

So she's gonna be on your album, correct?
Yeah, she's gonna be on the song "My Bitch." It was gonna be called "Ridin'," but it's actually "My Bitch."

Waka is on the A$AP album right?
Yeah, Flocka's on there, Pharrell's on there but that's all I can really announce right now. I can tell you, but not here with this conversation being in the press right now.
A$ap Rocky will perform at the Pitchfork Music Festival July 13th at 5:30 pm.