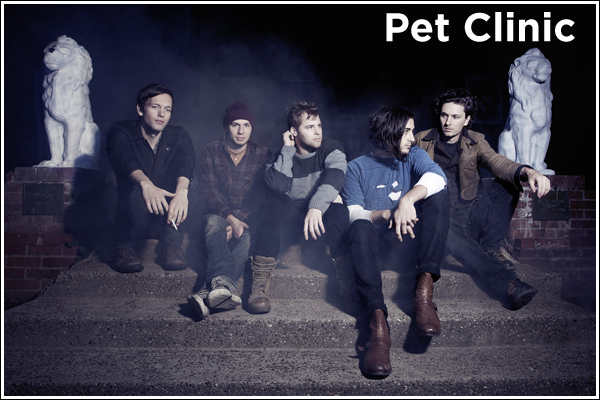 Pet Clinic performs on the AliveOne stage at 12:45pm on Friday, July 13
Pet Clinic is a five-piece rock band from Pittsburgh, PA that sounds straight out of the early '90s alt-rock scene. For fans of: Nirvana, The Strokes, Silversun Pickups, Richard Hell, The Toadies
What does "bunbury" mean? (No cheating; give it your best guess)
Bunbury: a smiling kitty that can't stop purring
What are 3 facts that you know about Cincinnati?
It's on the way to Alabama
Ford had a plant there that closed
Pete Rose, the gambler
Write a Twitter-style (140 character) description of your band
heavytumblingmountainplatespushinglava and the mansion has a pit now.
peopledownthecracksburnbeforetheyhit but we would never stop now.
On the schedule, you're up against Find Vienna and Bo & the Locomotive. Why should people come see you?
Our value comes from ourselves not the ones surrounding us.
What do you think of the fact that Jane's Addiction is headlining one of the nights of this festival but is not appearing at Lollapalooza
this year?
They wanted to see Cincinnati, again.
What band is missing from this lineup that you'd love to share a bill with?
Tom Waits
Will you have the opportunity to check out any other bands and, if so, who are you looking forward to seeing?
Reverend Peyton's Big Damn Band, Weezer, Airborne Toxic Event