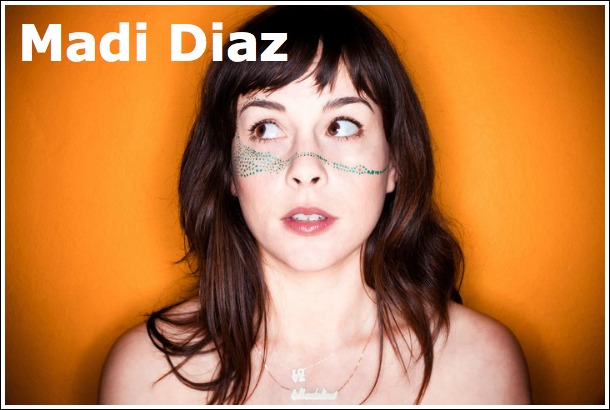 Madi Diaz performs on the CMC stage at 6:00pm on Friday, July 13
Madi Diaz is a Nashville-based singer/songwriter whose music has been described as "one part pop music and one part organic Americana … a hooky, confident collection of songs that is as heartbreaking in places as it is catchy in others, sometimes within the span of a single song."
What does "bunbury" mean? (No cheating; give it your best guess)
We go and play in a field where buns were previously buried centuries ago with the hopes that our musical vibrations will raise the buns from their graves!!!
What are 3 things that you know about Cincinnati?
I know that one of my favorite music stores….Mike's Music…resides in cinci.
I know that there are trapeze lessons next to the river downtown…
I know it's always swampy hot but bright and sunny every time I come through town.
Write a Twitter-style (140 character) description of your band
Every second that I have those guys backing me up I am one lucky girl. Sweetsillyloudsnoringbeerdrinkingbuddiesmakeextremlytalentedboys.
There's a lot of great bands performing at Bunbury, give a sales pitch about why people should come watch your band during the time slot you're playing?
Oof. I'm no good at the sales pitch. But. I love playing music and I love looking into your eyes while I'm singing so….let's just spend some time together! I play during the golden hour of sunlight too. It's gonna be dreamy where I'm standing!
What do you think of the fact that Jane's Addiction is headlining one of the nights of this festival but is not appearing at Lollapalooza this year?
I'm not sure what the difference is but that if they weren't playing Bunbury I wouldn't be there to see them!!! So excited to be a part of this line up!
What band is missing from this lineup that you'd love to share a bill with?
I've fallen in love with Girls. I think he's pretty wonderful. The new record is so summer time dreamy!
Will you have the opportunity to check out any other bands and, if so, who are you looking forward to seeing?
The bands are all so fun to see I'm just going to wander and leave it up to chance!