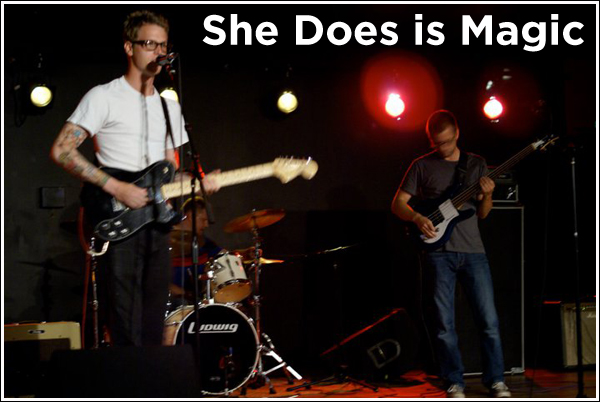 She Does is Magic performs on the Landor stage at 2:15pm on Friday, July 13
She Does Is Magic is an Indianapolis trio with a midwest garage-pop-punk aesthetic.
What does "bunbury" mean? (No cheating; give it your best guess)
Hmm…Bunbury–sounds like a breakfast pastry. And we love those!
What are 3 facts that you know about Cincinnati?
Chili parlors are everywhere. It is closely tied to pigs (flying pig marathon). The Cincinnati airport is in Kentucky!
Write a Twitter-style (140 character) description of your band
SHE DOES IS MAGIC is a 3-piece band playing Midwest Rock & Roll. Dancing is always permitted and appreciated.
There's a lot of great bands performing at Bunbury, give a sales pitch about why people should come watch your band during the time slot you're playing?
We're bringing a unique out-of-towner perspective to the festival. Our clean guitar, rockin' drums and bass hooks are sure to make everyone fans.
What do you think of the fact that Jane's Addiction is headlining one of the nights of this festival but is not appearing at Lollapalooza this year?
We love it! Jane's Addiction is a legendary band, and we can't wait to see them. It is great that they are participating in a festival in it's infancy. With all of the great music in it's first year, Bunbury is sure to be an ongoing success.
What band is missing from this lineup that you'd love to share a bill with?
Any chance you can get the Smiths to play? That would be nice.
Will you have the opportunity to check out any other bands and, if so, who are you looking forward to seeing?
We look forward to seeing Minus The Bear and The Rev. We really can't wait!