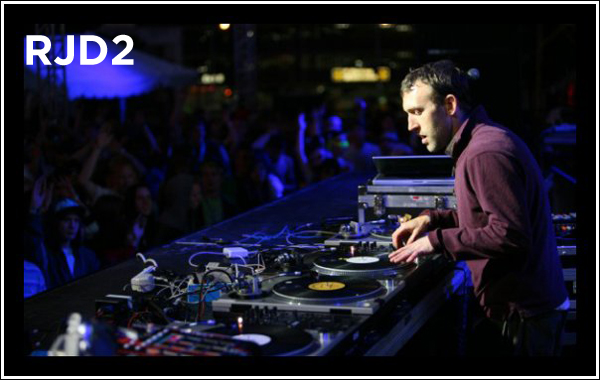 RJD2 performs on the BudLight stage at 8:45pm on Saturday, July 14
RJD2 is a Philadelphia-based DJ and multi-instrumentalist who catapulted to notoriety, fame, and serious hip-hop credibility with 2002's Dead Ringer. His music is a collage of cut-and-paste hip-hop that combines disparate elements to make for soulful, moody portraits of the world.
What does "bunbury" mean? (No cheating; give it your best guess)
Bootleg Burberry, i'm guessing? I dunno. Sounds British and aristocratic, and mildly ballerish. If so, I may ball out. Will have to play it by ear.
What are 3 facts that you know about Cincinnati?
a) It's the one-time home of the midwest champ, Blueprint.
b) Portions of the debut Soul Position album were recorded there, courtesy of my '94 Toyota Corrola.
c) Jewel records was located there in the 70's-I went on a record mission at one point to see what i could unearth. It was not fruitful.
Write a Twitter-style (140 character) description of your band
Our band has one person in it, and is apparently very effective music when studying for finals or smoking weed.
There's a lot of great bands performing at Bunbury, give a sales pitch about why people should come watch your band during the time slot you're playing?
You should pop your head in to my set, and see if you enjoy it. Just give it 5 minutes. What have you got to lose?
What do you think of the fact that Jane's Addiction is headlining one of the nights of this festival but is not appearing at Lollapalooza this year?
I guess it's weird. Maybe that means that they sold the brand to someone for alot of money? Something in my brain kinda stopped caring too much about anything Perry Farrell did at some point in the 90's, but that's probably just me.
What band is missing from this lineup that you'd love to share a bill with?
Mahavishnu Orchestra. That would be nuts.
Will you have the opportunity to check out any other bands and, if so, who are you looking forward to seeing?
Hopefully GBV, Alchemist, and maybe Passion Pit(we gigged a bit together before they got massively huge). We'll see what time permits.