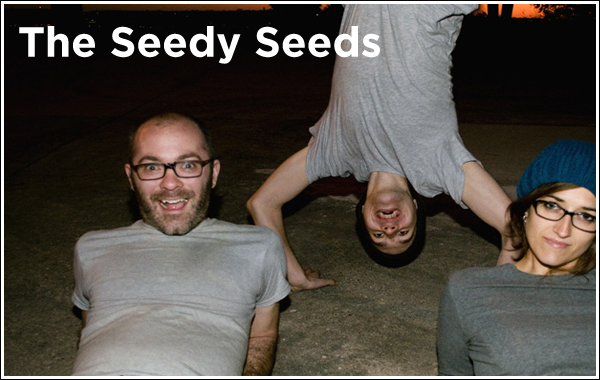 The Seedy Seeds perform on the BudLight stage at 4:30pm on Sunday, July 15
The Seedy Seeds are a fun/quirky/cute folk/electronic/indie trio from Cincinnati.
What does "bunbury" mean? (No cheating; give it your best guess)
A Bunbury is a variant of the Bluebury and is used primarily in the production of delicious muffins.
What does a festival like this mean for Cincinnati and/or Ohio?
Honestly a festival like this doesn't have to mean a lot for Cincinnati nor Ohio, and it will only mean anything if the city and the music community accepts it and runs with it. Too often, hats are hung on events and movements that are the creation of one tiny little sector of the community, while the rest of the community just waits for another one to be handed to them. "Sure our scene is awesome, we had Weezer play here once." What the Bunbury folks are trying to do here is raise the bar another notch, but in order for this to really take its place among the Bonnaroos and the Forecastles of this part of the country, it has to lead by example, not be the only example.
What I HOPE that what it means for Ohio is that others will take up the cause of finding new and inventive ways to present live music and use Bunbury as a guidebook and annual reminder of how it's done right; not just to sit back and wait year after year for someone else to do all the work for them again and again.
What is one thing that people who aren't from Cincinnati, whether it be other bands or festival attendees, should know about and/or see while in Cincinnati?
Cincinnati is a fantastic city that sometimes does an embarrassingly bad job of pointing visitors in the direction of awesome things. Lurking just outside the business district of downtown: The Cincinnati Museum Center and Contemporary Arts Center are fantastic; the Cincinnati Zoo is quite literally second to one (#2 in the nation behind the Columbus Zoo!); Shake-It Records is one of the best record stores in the nation; and if you're into completely amazing vintage guitars, check out Mike's Music just up Vine Street.
Write a Twitter-style (140 character) description of your band
Banjo and Accordion, folk-based pop with disco synth dancebeats, guy/girl harmonies; we are nice and we are nice looking.
There's a lot of great bands performing at Bunbury, give a sales pitch about why people should come watch your band during the time slot you're playing?
Well, for one, I know that The Deep Dark Woods (playing during our timeslot at the Landor stage) contains mostly cellulose fiber (wood pulp) and other "filler" agents such as Pink Slime. As a person who cares about his health, I just can't get behind that. Additionally, I just read a report that 4 out of 5 gastrointernologists have found that UME (same timeslot, over on the CMC stage) causes severe digestive issues and possible explosive diarrhea; this is very unfortunate, because they are really nice people. So I think the only sensible choice–The American Choice–is to come see The Seedy Seeds, at 4:30pm, Sunday on the Bud Light Stage.
What do you think of the fact that Jane's Addiction is headlining one of the nights of this festival but is not appearing at Lollapalooza this year?
I think its actually kind of fitting. Bill Donabedian was one of the co-founders of Midpoint Music Festival, built it up, taught it to walk, packed its lunch and sent it off to see the world. Midpoint has grown to a healthy and bouncing 10-year old international music festival. This year, Bill helped found Bunbury, which is a different kind of music festival but in the same town. I heard that Bill took a lot of inspiration for Bunbury from Lollapalooza. So who headlines the first night but PERRY FERRELL, who inspired the very festival that he is playing, founded by a guy who founded a music festival and left it to other people OH MAN ITS LIKE GAME OF THRONES.
What band is missing from this lineup that you'd love to share a bill with?
The Magnetic Fields
Will you have the opportunity to check out any other bands and, if so, who are you looking forward to seeing?
oh MAN OH MAN Guided by Voices. GUIDED BY VOICES guided by voices. They play at 7:45 and you will hate yourself if you miss it. It's always great to see other great Cincinnati bands and other pals of ours, but the real treat for festivals like this is to see artists who would otherwise not play in Cincinnati often or at all. I realized a couple of years back, during one of our annual trips to South By Southwest, is that a great way to experience a festival is sometimes to let the festival lead you where it may, because sometimes being on a strict schedule puts blinders on you to experience music that you wouldn't otherwise. WITH THE EXCEPTION OF OUR SET; PLEASE PUT ON BLINDERS AND SEE US AT 4:30 ON SUNDAY.