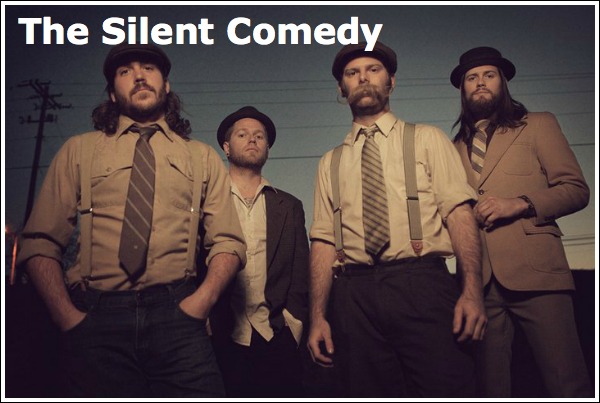 The Silent Comedy perform on the AliveOne stage at 8:45pm on Saturday, July 14
The Silent Comedy is a San Diego-based four piece eclectic, indie band dabbling in folk rock which has allowed them to share stages with a diverse range of acts including Mumford and Sons, Edward Sharpe and the Magnetic Zeros, Razorlight, Switchfoot, The Black Keys, Common, MGMT, Cold War Kids, Flogging Molly, The Whigs, and Delta Spirit
What does "bunbury" mean? (No cheating; give it your best guess)
I actually have no idea, but it sounds like something tasty that involves icing.
What are 3 things that you know about Cincinnati?
It is the home of the Bengals… It is in Ohio… That is really all I can think of.
Write a Twitter-style (140 character) description of your band
The Silent Comedy is a rowdy, folk-rock-americana, band from California. Their shows can best be described as a whiskey-fueled tent revival.
There's a lot of great bands performing at Bunbury, give a sales pitch about why people should come watch your band during the time slot you're playing?
Our band is known for putting on a wild live show. We can't help but get into the music, so our shows are full of high-energy stage antics. In a festival environment, this is definitely a reason to make the time to check us out. We are also a drinkin' band, so we pair well with whiskey and beer.
What do you think of the fact that Jane's Addiction is headlining one of the nights of this festival but is not appearing at Lollapalooza this year?
That is great news for Bunbury attendees! If you're a Jane's Addiction fan, you won't have to travel to Chicago to see them this year.
What band is missing from this lineup that you'd love to share a bill with?
We have shared the bill with some amazing bands this year, and we are always grateful for that. I have always wanted to play with Cage The Elephant. It would be cool if they were on the bill, but really, the Bunbury lineup is great! Not really much that I would change.
Will you have the opportunity to check out any other bands and, if so, who are you looking forward to seeing?
I believe we will. We are flying out from California, and will be hanging out every day of the festival. That will give us some good time to check out bands. At Bonnaroo and South By Southwest we didn't really get to see many bands. I think we all want to change that pattern at Bunbury. I am especially looking forward to seeing The Gaslight Anthem!