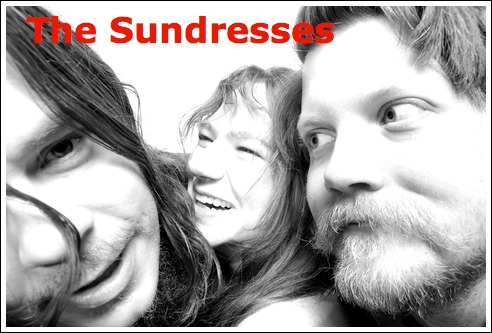 The Sundresses perform on the AliveOne stage at 3:45pm on Saturday, July 14
The Sundresses are a raw & nasty, b(l)oozy, garage-bastardized-country-punk trio from Cincinnati.
What does "bunbury" mean? (No cheating; give it your best guess)
Nothing
What are 3 things that you know about Cincinnati?
– There are seven hills that comprise the landscape of Cincinnati.
– It was described once as the "first truly American city" because it was not founded by Colonists.
– Cincinnati is spelled wrong.
Write a Twitter-style (140 character) description of your band
No thanks
There's a lot of great bands performing at Bunbury, give a sales pitch about why people should come watch your band during the time slot you're playing?
Because we are the best most innovative band by far on the festival, and it will be balls hot when we play.
What do you think of the fact that Jane's Addiction is headlining one of the nights of this festival but is not appearing at Lollapalooza this year?
I think it means that Perry Farell is a savvy business man because he realizes his band isn't relevant enough for Lallapalooza anymore.
What band is missing from this lineup that you'd love to share a bill with?
Nirvana
Will you have the opportunity to check out any other bands and, if so, who are you looking forward to seeing?
No