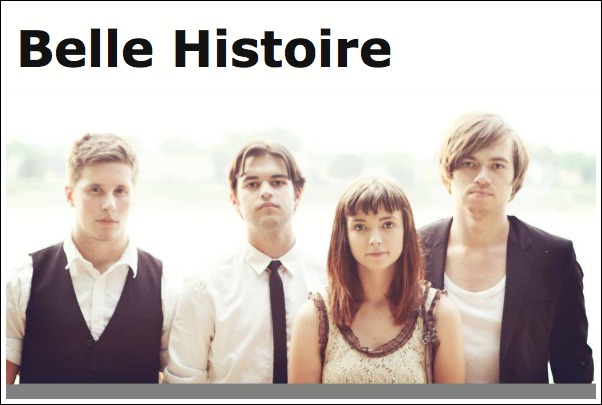 Belle Histoire performs on the Bud Light stage at 1:30pm on Sunday, July 14
Belle Histoire is a 5-piece from Cincinnati and will be releasing their debut album, Dreamers, on July 17. AbsolutePunk.net says, "All in all, Belle Histoire has defined themselves as a band with the purpose of reinventing indie rock music while gracefully making art that is universal."
What does "bunbury" mean? (No cheating; give it your best guess)
Bunbury of course is the term used to bury all kinds of buns from restaurants. This is mainly a code word of older people 70+.
What are 3 things that you know about Cincinnati?
I know that Cincinnati is the first city to get a major league (paid) baseball team, it has the best half price sushi in town, and the people here are the best people in the world.
Write a Twitter-style (140 character) description of your band
Belle Histoire is an indie/pop/rock band with an agenda to do something that matters. We love music, each other, and people.
There's a lot of great bands performing at Bunbury, give a sales pitch about why people should come watch your band during the time slot you're playing?
You should come watch our band play at Bunbury because we're going to be debuting our new album, "Dreamers" two days before it gets released to the world for sale! Also, you will have a solid 35 minutes of fun, passion, hope, fears, and everything in between while listening. You may even weep while punching someone.
What do you think of the fact that Jane's Addiction is headlining one of the nights of this festival but is not appearing at Lollapalooza this year?
I had no idea they did that, but I'm excited that Bunbury got them as headliners. It's easily going to be one of the biggest things that's happened to Cincinnati in a long, long time.
What band is missing from this lineup that you'd love to share a bill with?
Geez..I personally would love to share the stage with Bruce Springsteen. Heck, that shouldn't be too hard to get him here, right?
Will you have the opportunity to check out any other bands and, if so, who are you looking forward to seeing?
I'm definitely going to be checking out a good amount of artist's after we perform. Mostly looking forward to Death Cab of course, but I wanna see Neon Trees and Good Old War a lot. Also, might stop and see my good friends in The Pomegrantes. They're a ton of fun..