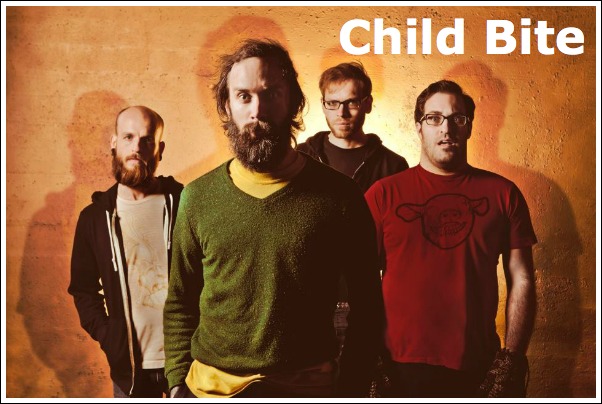 Child Bite perform on the Bud Light stage at 12:00pm on Sunday, July 15
Eastern Surf Magazine describes Child Bite, a four-piece from Ferndale, Michigan as "Schizophrenic post-punk, maniacal hardcore, the farthest flung art/spazz rock you can possibly imagine."
What does "bunbury" mean? (No cheating; give it your best guess)
It is a type of English bread; a loaf traditionally filled with figs, cashews, and senior citizen farts.
What are 3 things that you know about Cincinnati?
1) 18% of Cincinnati's herpes cases are known to have originated between the hours of 2am-4am inside the establishment currently known as Mayday.
2) 37% of the cities income is generated though sales of bath salts out of the 2nd level secret basement deep below Shake It Records.
3) 100% of the citizens of Cincinnati are immune to the adverse effects of eating Skyline Chili.
Write a Twitter-style (140 character) description of your band
Schizophrenic post-punk, maniacal hardcore, the farthest flung art/spazz rock you can possibly imagine.
There's a lot of great bands performing at Bunbury, give a sales pitch about why people should come watch your band during the time slot you're playing?
When we perform, we are at work. Nothing is easy about what we do; be it accessibility of the music itself, or how hard we physically push our bodies during the show. Come watch these middle-age bodies be pushed to limits only expected of teenagers.
What do you think of the fact that Jane's Addiction is headlining one of the nights of this festival but is not appearing at Lollapalooza this year?
Yeah, that is a little strange, eh? Who knows the reason behind it… maybe I'll ask Perry when I see him there.
What band is missing from this lineup that you'd love to share a bill with?
OFF!
Will you have the opportunity to check out any other bands and, if so, who are you looking forward to seeing?
We are old buds w/ Dan Deacon, he put out a 7″ of ours a few years back. He's always great to see live 'cause he controls people like a good natured cult leader.