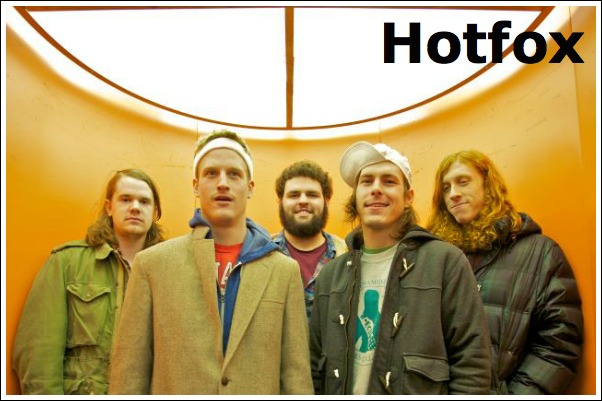 Hotfox performs on the Landor stage at 2:15pm on Saturday, July 14
Hotfox is a 5-piece from Bloomington, Indiana that has scored support slots on shows with Dale Earnhardt Jr Jr, Margot & the Nuclear So & So's, Company of Thieves, Bear Hands, and Walk the Moon. The band's laidback sound (not unlike Built to Spill's) should make for a perfect early afternoon listen.
What does "bunbury" mean? (No cheating; give it your best guess)
I'm pretty sure Bunbury is an old wooden ship.
What are 3 things that you know about Cincinnati?
I know that Cincinnati is in Ohio. I know that at one point the Reds were really good and referred to as the Big Red Machine. I know that The National is from Cincinnati.
Write a Twitter-style (140 character) description of your band
we are a group of lovers and friends who live with or near each other and perform over zealously and rambunctiously. distortion and melodies
There's a lot of great bands performing at Bunbury, give a sales pitch about why people should come watch your band during the time slot you're playing?
Choosing to see us over someone else is like choosing whether to go to the grocery store or a farmer's market: you know what the grocery store has, but you never know what can happen at a farmer's market.
What do you think of the fact that Jane's Addiction is headlining one of the nights of this festival but is not appearing at Lollapalooza this year?
I think it was entirely Dave Navvaro's decision.
What band is missing from this lineup that you'd love to share a bill with?
I'd thoroughly enjoy sharing a bill with Why?, Sonic Youth, and/or Kurt Vile.
Will you have the opportunity to check out any other bands and, if so, who are you looking forward to seeing?
I'm hoping we'll be able to catch some other bands. We make our own schedules. We're our own bosses. I'm hoping to catch She Does Is Magic, Weezer, GBV (duh), Margot & the Nukes, Manchester Orchestra, Dan Deacon, Death Cab and whatever sounds catch my ear as I walk by.