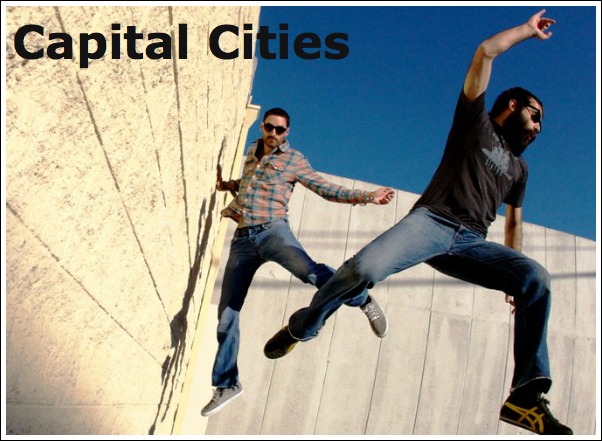 Capital Cities performs on the Globili stage at 1:30pm on Friday, July 13
Capital Cities is a 2-piece studio (5-piece live) electro-pop-dance-rock band from Los Angeles.
What does "bunbury" mean? (No cheating; give it your best guess)
The name of the original money-back-guarantee weight-loss guru from 19th century Cincinnati, whose controversial slogan "Don't just get rid of your big buns, bury them!" landed him into heaps of trouble with the FCC.
What are 3 things that you know about Cincinnati?
1) One of at least 3 big 'C' cities in Ohio
2) The Reds and Bengals
3) Home of the Flying Pig Marathon
Write a Twitter-style (140 character) description of your band
A band from Los Angeles with big fun electro beats, catchy melodies, dual vocals, poignant lyrics, indie edge and some brass funk.
There's a lot of great bands performing at Bunbury, give a sales pitch about why people should come watch your band during the time slot you're playing?
We'll be busy dropping electro kick drums on the main stage, so if you want to dance, come check us out.
What do you think of the fact that Jane's Addiction is headlining one of the nights of this festival but is not appearing at Lollapalooza this year?
Clearly Jane's Addiction only plays the coolest festivals.
What band is missing from this lineup that you'd love to share a bill with?
Chromeo
Will you have the opportunity to check out any other bands and, if so, who are you looking forward to seeing?
Excited about: LP, Passion Pit, Grouplove, RJD2, Minus the Bear