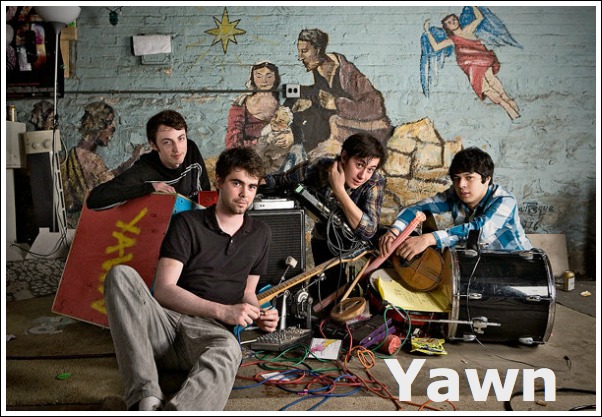 Yawn perform on the Globili stage at 12:45pm on Sunday, July 15
Yawn is a 4-piece from Chicago that describes themselves as "4 young riff-raffs with a taste for musical adventure."
What does "bunbury" mean? (No cheating; give it your best guess)
Bunbury is that crazy new sex move everyone's going around doing right? I hear it's pretty wild but the old lady won't let me try it out ;(
What are 3 things that you know about Cincinnati?
Our good friends Sister Crystals once hung around there. It's considered the true cultural capital of north america…. and isn't it the birthplace of bathsalts?
Write a Twitter-style (140 character) description of your band
MUSICS WE MAKE AND SOUNDIN' GOOD SOMETIMEZ
There's a lot of great bands performing at Bunbury, give a sales pitch about why people should come watch your band during the time slot you're playing?
Please for the love of god please just this once, c'mon dude. C'mon bro. C'mon.
What do you think of the fact that Jane's Addiction is headlining one of the nights of this festival but is not appearing at Lollapalooza this year?
That's a whoopsie goldberg.
What band is missing from this lineup that you'd love to share a bill with?
Electric Light Orchestra… wtf guys.
Will you have the opportunity to check out any other bands and, if so, who are you looking forward to seeing?
Gonna check out the Weezer for sure.