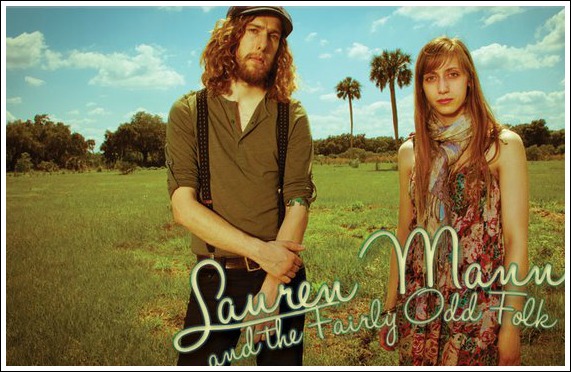 Lauren Mann and the Fairly Odd Folk perform on the CMC stage at 4:30pm on Friday, July 13
Lauren Mann and the Fairly Odd Folk are an indie folk-pop 5-piece from Alberta, Canada.
What does "bunbury" mean? (No cheating; give it your best guess)
It sounds like the name of a bush. That's probably completely wrong.
What are 3 things that you know about Cincinnati?
1. It's in Ohio
2. It's known for it's unique architecture
3. Home to Bunbury Festival
Write a Twitter-style (140 character) description of your band
We're an indie folk pop band from Canada that tours a lot through Canada and the US and just released a new album called Over Land and Sea.
There's a lot of great bands performing at Bunbury, give a sales pitch about why people should come watch your band during the time slot you're playing?
People say we're a fun band to watch, and we really like it when people dance with us during the show. There's also a possibility that we'll let you play tambourine with us, and who would want to miss an opportunity like that?
What do you think of the fact that Jane's Addiction is headlining one of the nights of this festival but is not appearing at Lollapalooza this year?
I guess it might seem strange that they aren't playing Lollapalooza because that seems to have been a big part of their career. I'm not so familiar with the band, so I don't really have any personal opinions about it.
What band is missing from this lineup that you'd love to share a bill with?
I've always wanted to play with a band from Texas called Eisley. Next year, perhaps?
Will you have the opportunity to check out any other bands and, if so, who are you looking forward to seeing?
Since we're playing in the afternoon (4:30pm) we'll have the whole evening to check out other bands. Foxy Shazam is definitely on the list, as well as Ra-Ra-Riot, and Minus the Bear.