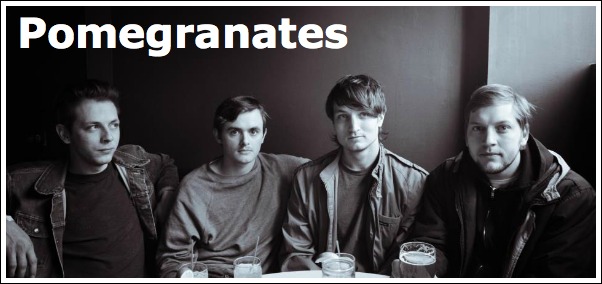 Pomegranates perform on the AliveOne stage at 3:00pm on Sunday, July 15
Pomegranates are a 4-piece from Cincinnati that play "a unique blend of stirring and surprising psychedelic dream rock that's as tender as it is ass-kicking
What does "bunbury" mean? (No cheating; give it your best guess)
It is from an Oliver Wilde play, I think it means something akin to "an adventure".
What are 3 things that you know about Cincinnati?
It was a major pork processing city which is why it is called Porkopolis and we have the Flying Pig Marathon and also one of the big reasons P&G is here. Winston Churchill described Cincinnati as the most beautiful of all the inland American cities. The "Hall of Justice" on Superfriends was modeled after Union Terminal.
Write a Twitter-style (140 character) description of your band
Pomegranates could be described as: Bee Gees meets The Beach Boys with fuzz pedals and more samplers/synthesizers.
There's a lot of great bands performing at Bunbury, give a sales pitch about why people should come watch your band during the time slot you're playing?
We've recently added at least one bolo tie to our stage production. Also, we usually don't play on stages this big so there will be a lot of room to ridiculously strut our stuff and a lot of front of house amplification for an above average dose of rocking out.
What do you think of the fact that Jane's Addiction is headlining one of the nights of this festival but is not appearing at Lollapalooza this year?
"The times', they are a changin…"
What band is missing from this lineup that you'd love to share a bill with?
The original lineup of Black Sabbath is supposed to be reuniting this year, so needless to say my heart was sent into a spiral of uncontrollable remorse when I saw that they were not on the bill for Bunbury, but time heals all wounds.
Will you have the opportunity to check out any other bands and, if so, who are you looking forward to seeing?
The bands that I am going to try my best to see will be Ume, Guided By Voices and Death Cab for Cutie.