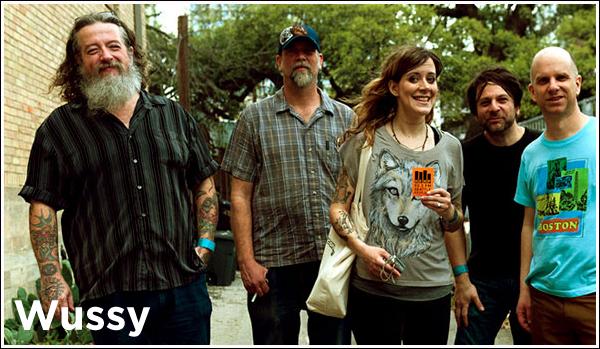 Wussy performs on the Landor stage at 3:00pm on Sunday,
July 15
Wussy are a four-piece rock band from Cincinnati, Ohio fronted by ex-Ass Ponys frontman Chuck Cleaver and Lisa Walker. From my very own "Best of 2011" list, here's what I said about Wussy's Strawberry – "One wouldn't expect Chuck Cleaver, the heavily tattooed Cincinnati songwriter, to produce his best collection of songs this late in his already highly-prolific career, but that's exactly what he's done."
What does "bunbury" mean? (No cheating; give it your best guess)
They make muffins and cookies and shit.
What are 3 things that you know about Cincinnati?
It's hot as fuck here in the summer. A lot of really good bands by-pass us. We're really into that god damned chili.
Write a Twitter-style (140 character) description of your band
We are a marshmallow full of danger.
There's a lot of great bands performing at Bunbury, give a sales pitch about why people should come watch your band during the time slot you're playing?
It's 3:00 in the afternoon. What the hell else would you be doing?
What do you think of the fact that Jane's Addiction is headlining one of the nights of this festival but is not appearing at Lollapalooza this year?
My world is falling apart.
What band is missing from this lineup that you'd love to share a bill with?
Skynyrd
Will you have the opportunity to check out any other bands and, if so, who are you looking forward to seeing?
Ume, Black Owls, Messerly & Ewing, Jeremy Pennell & The 55's, Bright Light Social Hour, Toto, Fine Young Cannibals, Hothouse Flowers.