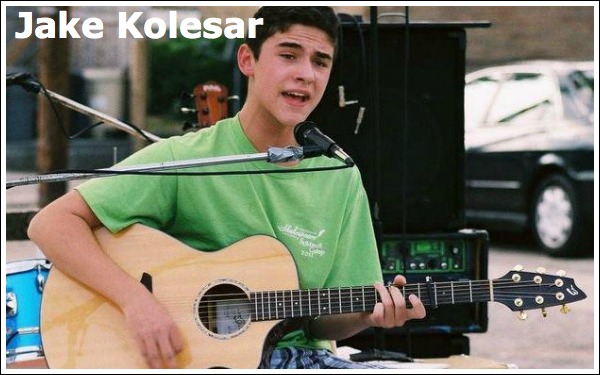 Jake Kolesar performs on the CMC stage at 2:15pm on Sunday, July 15
Jake Kolesar is a 15-year-old indie-folk singer/songwriter from Cincinnati and the youngest performer playing Bunbury.
What does "bunbury" mean? (No cheating; give it your best guess)
I was wondering the same thing…
What are 3 things that you know about Cincinnati?
(1) It is incredibly underrated, (2) Home of Bootsy Collins and Graeters Ice Cream, (3) There is an awesome, but little-known music and acting scene in Cincy
Write a Twitter-style (140 character) description of your band
I am Jake Kolesar, a fifteen-year-old folk guitarist/singer/songwriter. I love the simplicity of acoustic music, and am heavily inspired by Dylan and Guthrie.
There's a lot of great bands performing at Bunbury, give a sales pitch about why people should come watch your band during the time slot you're playing?
In a world of loud, degrading hip-hop and pop music, I think it's refreshing to see a fifteen-year-old pull out his acoustic guitar and perform a set of all original folk music. Also, I am the youngest performer at Bunbury, so I've got a lot to prove, and I don't plan on letting anybody down!
What do you think of the fact that Jane's Addiction is headlining one of the nights of this festival but is not appearing at Lollapalooza this year?
I think they are smart because they are going to get a lot of loyal fans coming out to see a more intimate performance. They are probably looking to play a lot of B-sides, and Lollapalooza audiences usually just want to hear the hits.
What band is missing from this lineup that you'd love to share a bill with?
I'd love to share a bill with Bon Iver. They've got a great following coming off of their hugely successful second album, and they play beautiful music.
Will you have the opportunity to check out any other bands and, if so, who are you looking forward to seeing?
I'm looking forward to seeing Death Cab. As far as the world of pop/rock music goes, DC is as good as it gets. I love "Codes and Keys," and really want to see how they play those songs live.