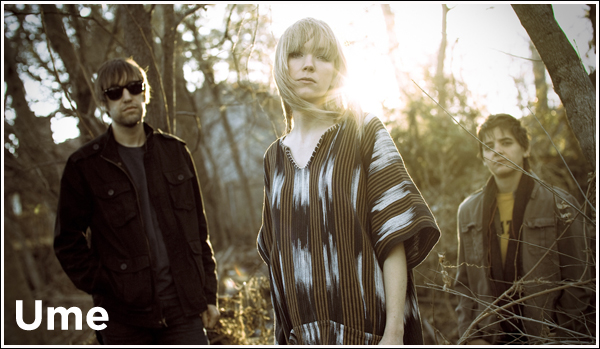 Ume performs on the AliveOne stage at 4:30pm on Sunday, July 15
Ume is a 3-piece from Austin, Texas. Chromewaves.com describes Ume's music as "Songs that balance sweet pop hooks with snarling heaviness, equal debts to punk, stoner, shoegaze and alt rock, insane guitar abuse/heroics and an audience awestruck and won over."
What does "bunbury" mean? (No cheating; give it your best guess)
The dissonance created by the mating rituals of bumble bees (noticed the festival's mascot was a bee, so giving it my best guess ;-)
What are 3 things that you know about Cincinnati?
It is the former home of the amazing WOXY radio station (RIP), known for its chili, and supposedly has a cymbal-only store that our drummer might need to check out.
Write a Twitter-style (140 character) description of your band
Brutal, elegant, guitar-driven indie rock that actually rocks
There's a lot of great bands performing at Bunbury, give a sales pitch about why people should come watch your band during the time slot you're playing?
Real quotes from audience members after seeing Ume play: "I feel you because I also know what it's like to unleash the vampire within." "I've never sweated that much watching a band." "It's like the love child of Kurt Cobain and Janis Joplin." "You're not really playing that guitar like that, are you?"
What do you think of the fact that Jane's Addiction is headlining one of the nights of this festival but is not appearing at Lollapalooza this year?
Hopefully they play "Mountain Song" and all those folks in Chicago will sadly miss out on screaming "Comin' Down the Mountain!"
What band is missing from this lineup that you'd love to share a bill with?
Pink Floyd
Will you have the opportunity to check out any other bands and, if so, who are you looking forward to seeing?
I once saw Death Cab For Cutie perform live in Houston, TX to 10 people at a shoe warehouse, so it will be interesting to see how they've changed into one of the biggest bands in the galaxy. I'm also excited to be sharing a stage with two other Modern Outsider bands – Pomegranates and Bad Veins – both from Cincinnati.