Tyler, the Creator twittered a link to Odd Future's tumblr that had tourdates and release dates. Tourdates include a Columbus, Ohio, September 12th show. full listing of tourdates at the bottom of this post.
UPDATED:
Domo Genesis is dropping a mixtape with the motherfucking Alchemist on August 1st called No Idols. Above is a song from that tape called Elimination Chamber that features Earl Sweatshirt, Vince Staples and Action Bronson.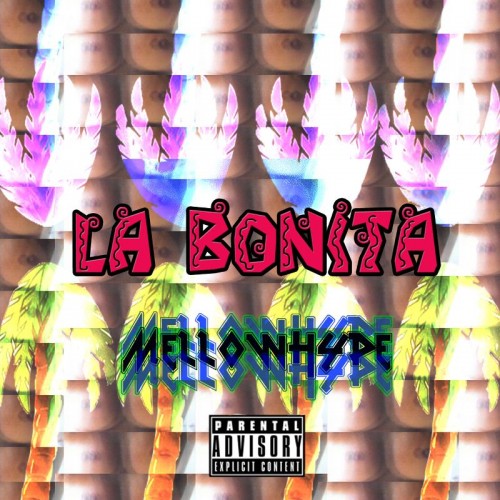 On October 2nd, Mellowhype will drop their new album Numbers. Hear a brand new jawn from Hodgy Beats & Left Brain called "La Bonita".
More Odd Future News After the Jump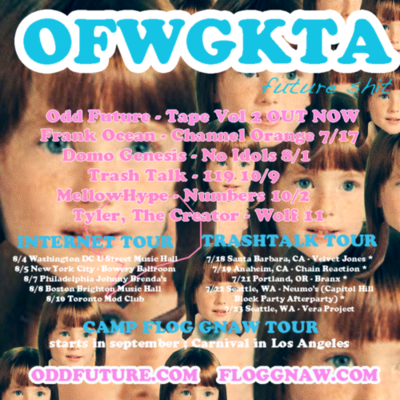 The Internet is touring the East Coast with their friend Kilo Kish
THE INTERNET/KILO KISH TOUR DATES
8/4 Washington, D.C. – U Street Music Hall
8/5 New York City – Bowery Ballroom
8/7 Philadelphia, PA – Johnny Brenda's
8/8 Boston, MA – Brighton Music Hall
8/10 Toronto, ON – Mod Club
Trash Talk will release their new album 119, their first full-length since 2010's Eyes & Nines, on October 9th. The Sac HXC dudes are touring the West Coast this month:
TRASH TALK TOUR DATES
7/18 Santa Barbara, CA – Velvet Jones *
7/19 Anaheim, CA – Chain Reaction *
7/21 Portland, OR – Branx *
7/22 Seattle, WA – Neumo's (Capitol Hill Block Party Afterparty) *
7/23 Seattle, WA – Vera Project *
* = w/ SpaceGhostPurrp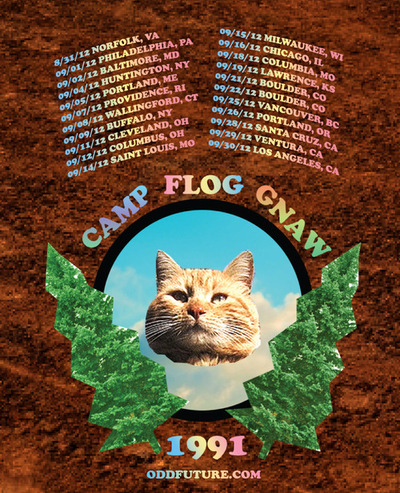 Odd Future CAMP FLOG GNAW TOUR DATES
8/31 Norfolk, VA
9/01 Philadelphia, PA
9/02 Baltimore, MD
9/04 Huntington, NY
9/05 Portland, ME
9/07 Providence, RI
9/08 Wallingford, CT
9/09 Buffalo, NY
9/11 Cleveland, OH
9/12 Columbus, OH
9/14 Saint Louis, MO
9/15 Milwaukee, WI
9/16 Chicago, IL
9/18 Columbia, MO
9/19 Lawrence, KS
9/21 Boulder, CO
9/22 Boulder, CO
9/25 Vancouver, BC
9/26 Portland, OR
9/28 Santa Cruz, CA
9/29 Ventura, CA
9/30 Los Angeles, CA