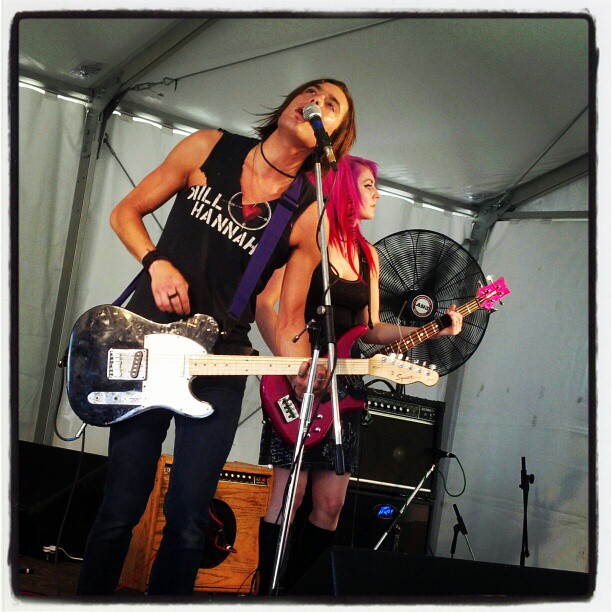 Tristan Swan of Love Culture was done waiting for somebody else to put on a festival featuring bands influenced by the likes of The Cure, Smashing Pumpkins and My Bloody Valentine so he decided to take matters into his own hands.
This Saturday night, Swan presents the second annual Big Day In festival featuring not only local shoegazer/ambient-rock talent, but some national touring acts as well. While many of the bands come from the same collective influences, Swan's the first to admit that he really just, "wanted to get the bands we really like on the bill."

"We're very good friends with Dead Leaf Echo (NYC) and we admire what they do so much. They played BDI last year and Bloody Valentine in February so they have a pretty good rapport here in Columbus," Swan says. "Plus they are cool as fuck, and that always flies pretty well with us."
Perhaps the most anticipated band on the bill is the L.A.-based Nightmare Air featuring Dave Dupuis of Film School. "We checked them out and totally dug the sound and aesthetic," Swans says. "They're on the first leg of their tour so we somehow convinced them to stop by and play our little festival."
Swan explains why putting together this festival is so important to not only him, but the local music scene as well. "We know this city has plenty of festivals, and plenty of outlets for bands to gather together and have a good time. That's cool. But we don't feel attached to them (for the most part), and we don't feel like the sonic avenue we want to pursue is being represented as well as it could be. So, instead of getting angry about it, we want to do as many things as we can to make it better. But, as this is summer, we don't want to only have aesthetically raincloud bands on the bill. We've got several bands that lend themselves very well to a party like Alert New London, The Energy Clinic, The Spruce Campbells and Windom Earle, and then we have the bands that are meant for the Night.
Here are the details:
The festival takes place at Woodlands Tavern. Doors at 5. Cover is $5 before 8pm, $8 after.
Lineup and set times:
6:30 – Playing to Vapors (Columbus)
7:15 – The Energy Clinic (Columbus)
8:00 – Golden Death Music (Columbus)
8:45 – The Spruce Campbells (Columbus)
9:30 – Nightmare Air (LA. Members of Film School)
10:30 – Petit Mal (Columbus)
11:15 – Alert New London (Columbus)
12:00 – Dead Leaf Echo (NYC)
12:45 – Love Culture (Columbus)
DJs:
Scotty Niemet
Walleye