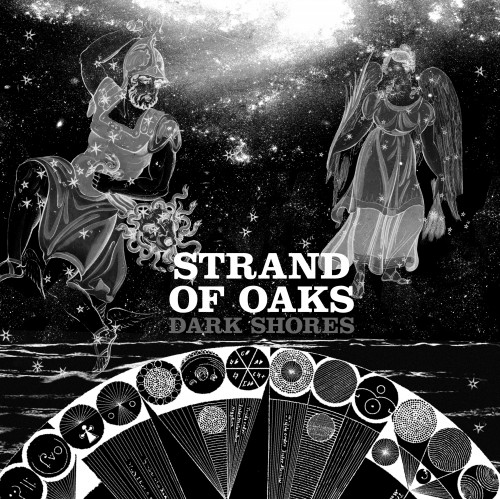 MP3: Strand of Oaks – Maureen's
Timothy Showalter's Strand of Oaks returns to Columbus on Thursday (8/2), this time opening for The Tallest Man on Earth at the Wexner Center. Showalter is one of my favorite musicians and always a fun interview, so I had to ask him a few questions about the direction of his just-released Dark Shores. Gone are the walls of synth of Pope Killdragon, replaced instead by reverb-less vocals and John Vanderslice-approved acoustic arrangements.
You can find an abbreviated form of this interview in The Other Paper this week, but here's the full email exchange that Tim and I had over the past couple weeks.
Was John Vanderslice someone you had in mind when you were writing these songs, and how much did his aesthetic and input influence the sound of Dark Shores?
Actually the record was started twice. I went back to my friend Ben (Vehorn)'s studio in Akron last October. I had wanted to do this giant synth follow up to Pope Killdragon, and Ben was the perfect person for that. So we recorded about half the record, and it kept growing more epic.  I hadn't finalized lyrics yet so they we're basically instrumentals. When the lyrics were done I quickly realized that this record was not going to be what I had initially planned. The lyrics became incredibly real to me and the fantasy element didn't fit anymore. 
Right around that time, I was in San Francisco and visited John (Vanderslice) at Tiny Telephone.  We clicked immediately and began planning the record. John was a producer in every sense of the word. I trusted his decisions and what he saw in the songs. Our goal with the record was to finally capture my singing right. There's always been this disconnect with how I sing live and how it's recorded. John wanted the voice to rise above everything else.

One of the main reasons I wanted to work with John was his production on The Mountain Goats' The Sunset Tree. It might be one of the most beautiful sounding records I'd ever heard. It was quite the nerd-out moment when I was able to reference parts of that album for my own.
The Sunset Tree is one of my favorite albums of all time. I have to say I was really surprised at this direction, though. I was expecting more of the "giant synth" follow-up.
Yeah, I first heard Sunset Tree when I was touring with Kimya Dawson in the UK. She put it on and I remember the whole van stopping silent and we listened to the whole thing. A very powerful and moving memory. 
Honestly, I was surprised with the direction, too. That's something that I've learned not only with making records, but my life. You can't expect shit. Whether good or bad, every time I get comfortable with what's around the corner, I'm wrong. I still listen to those first synth versions of Dark Shores and love them, but I know they're not right. It probably would've grabbed a lot of people's attention faster, but in the long run it really would've destroyed the purpose of the songs. I think it was important for me to feel naked with the lyrics. When I wrote Killdragon, I wasn't ready for that. I needed the characters to be the buffer between my reality and the song. 
"Spacestations" feels so different than the version you recorded for the Shaking Through project.
When I recorded the first version of "Spacestations" I still needed that buffer. That song came out so fucking good. We created something amazing with that song, but I felt like the lyrics got lost amidst the sonic weight. When we recorded it at Tiny Telephone it was all done in one take with no added effects. It's hard for me to listen to that because it's totally exposed. 
Do you think a giant synth follow-up will still happen, or do you feel at home with this new sound?
I have no doubt I'll go back to synthesizers. I'm already writing the next record, so who knows.
Do you plan to tour on this record with just an acoustic guitar, or are you bringing along your electric and what you've referred to as your "spaceship of guitar pedals"?
For the tour I'm on right now with the Tallest Man on Earth it will be me and Chris Ward (Pattern is Movement) on drums. Chris is my favorite drummer on earth and really makes a two-piece feel much more expansive. I've actually dismantled my pedalboard in favor of much simpler tones. I got sick of reverb and really into slap-back delay tones. I want my guitar to sound like John Lennon's voice on Plastic Ono Band. 
Can you tell me about releasing this album on your own again? Is it by choice? After the last album, I assume you had some label suitors?
We did have a lot of interest. There are still a few labels that I want to work with in the future, but we decided that self-release was the most ideal for Dark Shores. I've learned that the only thing I can expect is what this band can do for itself. When it's time to expand the team and include the label, I want it to be the perfect match. As for now, I'm really impressed with how far a self-release can progress a career.