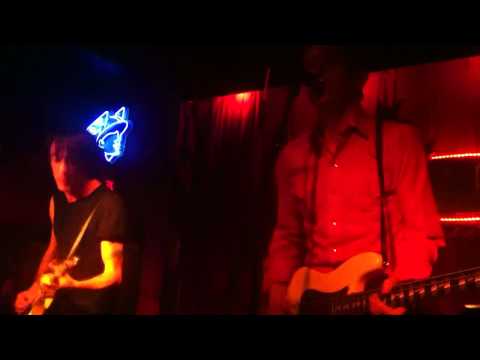 Last night Britt Daniel, Dan Boeckner and Sam Brown showed up at the Continental Club in Austin billed as "The Hot Skull," then played their first ever Divine Fits set, pulling off a 12-song secret show that actually remained pretty secret until just a few minutes before the band took the stage.
Here's a not-too-shabby live video of "Flaggin a Ride" (via CoS), track 2 on A Thing Called Divine Fits, out Aug. 28 on Merge. Boeckner told me recently that writing and rehearsing "Flaggin" was one of those moments where everything clicked, and he realized this band is a real band — a real and awesome band:
"We did this super-early version of it, which is pretty much what ended up on the record, minus some overdubs. The bass just stays the same through the verses, and the guitar was just this weird, clicky, rhythmic, one-note thing that would shift every now and then. We were writing it and just kept stripping away guitar parts until there are actually no chords. I don't think I play many chords on any of the songs [on the album], except maybe "Civilian Stripes." Anyway, we kept stripping "Flaggin a Ride" back and back and back. Finally, it was like, this sounds fucking great. I was really excited about it. There's no guitar chords in that song. It's all implied. That made me really happy. When we could play that song all the way through, that was when I was like, yeah…"
In Columbus, the question people have been asking is, how did this band come about, and how did Sam Brown — a guy everyone in the Columbus scene knows is one of the best drummers around — get hooked up with the frontmen of Spoon and Wolf Parade/Handsome Furs?

Back in '96, Sam Brown was playing with Jim Shepard in V-3, and they got on a tour with Guided by Voices on the west coast. Spoon opened about five of those shows, too. But Brown and Daniel never really met. "It's funny," Brown says. "We had these shared memories of shows, but we didn't really hang out until now."
No, it took Mike McCarthy, who produced the Sun's Don't Let Your Baby Have All the Fun and the majority of Spoon's albums, to make the introduction. Daniel was looking for drummers, and McCarthy said Brown was perfect for him. "He's just a master drummer," McCarthy says.
Daniel and Boeckner had already begun sending song ideas back and forth. They'd struck up a friendship over the years after Daniel saw the Handsome Furs video for the song "Dumb Animals." Boeckner had been a Spoon superfan since high school, before the band got big. "They'd always been this secret band that I liked that I could show to other people and my circle of friends," Boeckner says. "People in the hardcore punk scene hadn't heard of them."
In October, the three guys got together for a week of rehearsal in Los Angeles and eventually headed to the studio in March. I'll have a lot more about those rehearsals, the band's songwriting process, recording in the house that Toto built and more about Brown's role in all this in an Other Paper feature story tomorrow. Pick up a copy or use the WorldWide Web. UPDATE: Here's that story.
Spoiler alert: Below, I'm posting the Continental Club set list and live video of a cover Divine Fits performed last night. Don't look if you wanna be surprised in Columbus on Monday at Ace of Cups (though Boeckner says he's got a surprise Ohio cover in store that I didn't see on this set list). Anybody get one of those golden tickets?
>
>
>
>
>
>
>
>
>
>
>
>
>
>
>
>
>