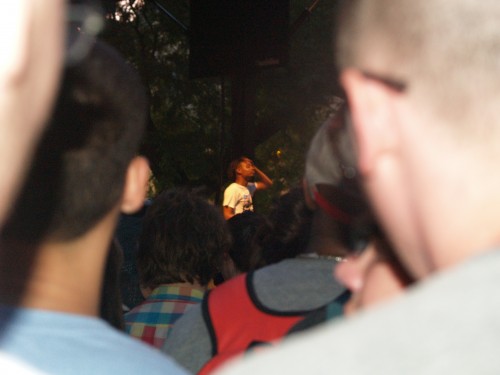 Danny Brown (pictured above) asked the crowd Saturday if Pitchfork was the first thing they check when they get on a computer. I mean, I don't give a fuck who you are, or what you are into; It prolly goes Facebook, Twitter, Vice.com, and P4k.  That rhetorical question had a point.  So with that said, the reason this review is mad late is because I didn't think I had much news compared to their own coverage.  Lady Gaga did watch Kendrick Lamar. If you care you already know that. I figure at this point you can read this after you have run out of things to look at on the internet. I do have a yelp about the Megabus, a liking of Liturgy  and a suggestion on how to fix all rap performances.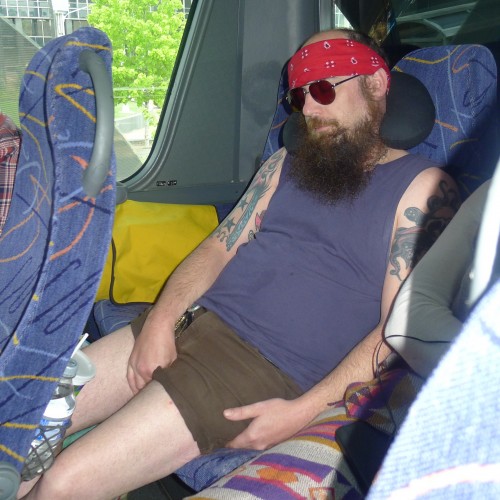 Ron Barker sleeping on the Megabus.
Megabus: I went to the Pitchfork Music festival because Columbus, Ohio premier watering hole, Carabar's co-owners Ron Barker, and Cara Bourke reserved a bunch of Megabus tickets for their friends a few months ago. The Gathering of the Juggalo's Line-up hadn't been announced when I RSVP'd for the trip they organized. So because Rock The Bells will never be at Zoombeezi Bay Waterpark and Scribble Jam is still cancelled I went because I liked the line-up.
Bunbury in Cincy is the same weekend as P4k  and  is obviously a huge event.  Bunbury's Headliners 'Janes Addiction and  Weezer are obviously way bigger than Pitchfork's headliners' Vampire Weekend or Godspeed You Black Emperor. But I can't think of a band on the Pitchfork Festival that is as fucking horrible as Alberta Cross who played Bunbury. Seriously. I just checked. So sometimes if you see some bad bands on a bill you get shy.
The Megabus itself picks you up on the street on Nationwide in Downtown Columbus. It's ok. The wi-fi doesn't work. If you are headed from Columbus to Chi, you will have space until you hit Indianapolis.
When you hit Indianapolis people will get on that have no concept of personal space, and could be attractive if they didn't have a bizarre flaw. I spent the bulk of my trip to Chi wondering if the girl next to me was intentionally putting her butt on me, and if I should be stoked if she was.
She was wearing a dress that revealed a homemade tattoo that either said Brandy, Amanda or Candy. She was fairly young so I wondered if she had been in a Juvenile detention center when she was a minor and received a jail-house tattoo. I, then, started wondering  what crime she must have committed at young age. I had decided she had doctored documents so she could she earn some extra cash stripping during lunch-hour at Brad Bass Flamingo's or a credit card scam for a month's worth of Apple Bottom Jeans from Macy's.
She was probably thinking why does this Homer Simpson looking creep  keep looking at my arm.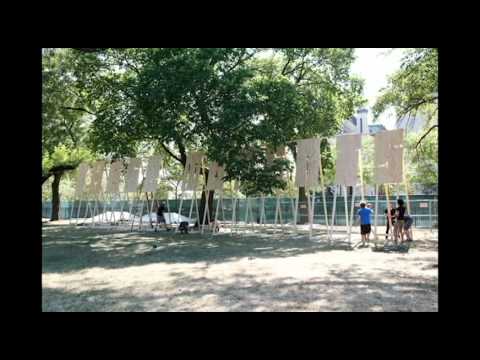 Photo & video credit: Zachary James Johnston (www.ZacharyJamesJohnston.com). Video features Heavy Times song "Future City" /
The Pitchfork Festival itself is fairly well-run. The lines aren't out of control. The beer is really affordable as is the food. There really isn't much to complain about logistically.
I will say that because all the groups play for 45 minutes; even when they overlap you end up watching both because most buzz-bands don't have a set that can hold your attention that long in a festival setting. So in many ways you end up liking the festival more than any new group.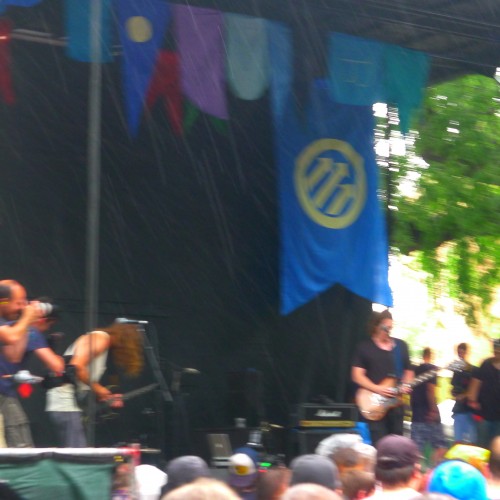 Rock bands: Before going to P4k, I didn't know what to make of Liturgy(pictured above). I hold metal bands to the same situational ethics I hold my rappers to: I want to believe your creativity is coming from a misplaced criminal mind unless I know you well enough to give you the benefit of the doubt that you might just be good at making music. Then I don't want you to be a criminal because that's just  toxic.
Well, waking up to watching Liturgy in the rain made me not care that they aren't terrible humans. I always judge black metal on what is going on riff-wise under the layer of noise. Liturgy offered both a relentless exterior bludgeoning of noise and an interesting underbelly to engage a desire for musical intelligence . Especially in the rain. It would be easy to say that they are the new Fucking Champs. But there is a more gnostic and  cerebral thing going with them.

I missed Ty Segall, Cloud Nothings, UMO and Milk Music because they were all in the early  afternoons. Chicago bars are open until 5 am.
I came to the conclusion that Beach House, Feist and Sleigh Bells  are all social bands for me. It's like talking about baseball at work. You read the box-score, and making fun of it doesn't get you anything. That's the non-sexist way of putting it.
Depressed Sex music for older people vs. Depressed Sex music for younger people: I went and watched Grimes first because I figured they would play shorter than Godspeed. They had a dancer and weren't that depressing which kinda bummed me out because I had already tuned SleighBells out earlier. And I actually like Grimes. The crowd enjoyed the party-goth, though so I guess fuck me for wanting to see cutters.
Godspeed You Black Emperor reminded me of the Occupy Movement. Economic equality and epic instrumental rock are good ideas. But the humorless grad students kinda ruin it..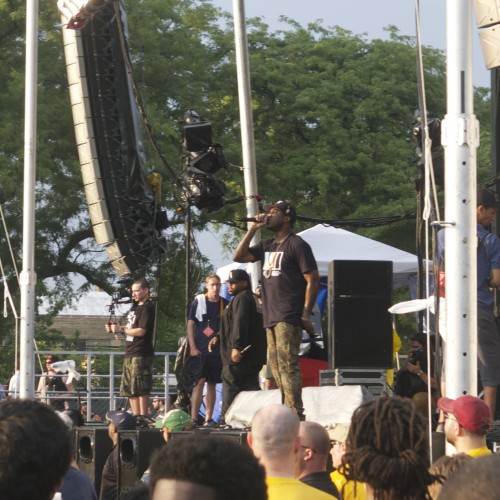 Rap: Big Krit(above)put on a well-rehearsed energetic show. Performance-wise he gave the second-best show behind Danny Brown. At P4k people were treating Brown like a star. He played in a smaller area and it was jam-packed.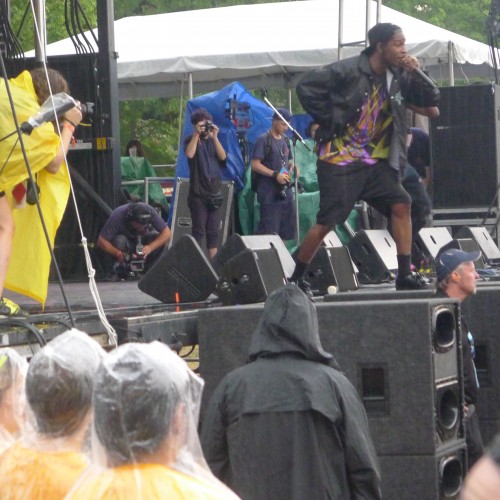 A$ap Rocky in the rain.
I mentioned K.R.I.T earlier to say this. Anyone I know that didn't already listen to A$ap Rocky, Kendrick Lamar, and School Boy Q were completely bummed on their sets but loved K.R.I.T..
I enjoyed A$ap's set in the pouting rain. The thing about an A$ap Rocky set is that people get super stoked to hear their favorite songs. And Rocky has a lot of charisma. But because there are no routines, and  there are so many members of the A$ap Mob taking turns; it gets confusing for someone who hasn't listened to A$ap before.
On top of that I think his chaotic approach coupled with down-tempo drug anthems are cocktails for fights. It's a constant flux of hi and low energy. This can make people unstable.  A$ap's bi-polar mess of a show works for his audience. He had the youngest audience at P4k so you probably want to see a fight at your first rap show. So maybe his show not being engaging to non-fans won't matter. But for him to win over the average music head by just showing up isn't gonna happen. Especially at a fest.
Kendrick Lamar's & Schoolboy Q's performances were let downs too. This surprised me because I had seen Kendrick Lamar before and loved it.  Kendrick has breath control and can rap his lyrics but there was no flow; the sound cut-out and everything was start-stop. I kept hoping Gaga would come out and save the day with her sheer star power.
Danny Brown had the best show of any Hip Hop act at p4k. The show the Detroit emcee organized with his DJ Skywalker was sequenced to consider his audience without overly catering. For example, Brown smoothed out all the "fucked her in the mouth and washed it down with tabasco" style punchlines by playing Blondie, and also his ode to cunninglinuis "I Will".  So the rest of his sex rhymes came off fun like Blowfly; instead of creepy like 'bitch blow me'.
On top of that, DJ Skywalker had breaks that sounded like hand claps that he would mix in. This was a good method of breaking up the music which can often get garbled at a festival, and also keeping a pace. I have to think part of the reason  that Brown and K.R.I.T's shows appealed to the average music head was that you could tell what the fuck was going on because it was organized. I think this boils down to Brown and K.R.i.T's relationship with their deejays.
I mean, I am guessing having A-Trak around probably makes a Fool's Gold deejays think about a Hip Hop show as a party. And where K.R.I.T. is from in Mississippi ; the deejays have an old school sense of things is my guess.
I am not saying that A$ap or Kendrick Lamar aren't boys with their deejay but their deejay seemed  to be more their button pushing fam than someone who is delegated the role of being a rhythm section for a performance.
You guys might laugh at this idea but it's not wrong. There is a reason why Rhymesayers weathered the death of indie rap. They always have sequenced routines, and rehearsed performances. SO their fans never felt let down. This builds a connection that gets people to stay with you. And part of this is that the deejay is required to be an integral part of the performance.
I am not saying that I want to see fucking crab scratches and orbits.  Hell, no I would rather see A$ap Rocky rap over his I-Phone than that. I just want to see an emcee and a deejay that rock the party. My suggestion is that Rhymesayers  should start a service where they rent out with deejays or train people's deejay how to rock a show.
Or if you don't want to pay that fee; Get Scion, or Red Bull or whomever the fuck to sponsor a mix of your music by a Fool's Gold deejay, and then just copy it for your set.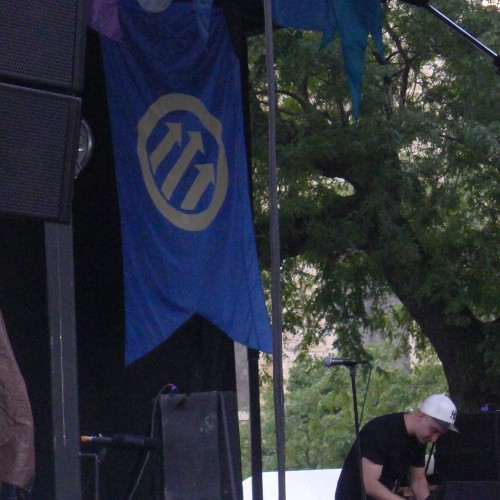 Clams Casino's (above) P4k performance made my head nod.  The drums made you pay attention. During his show someone asked me who the fuck Clams was. I told my friend Clams works with A$ap Rocky and Lil B. I said he is kinda like the new Dan the Automator or Dangermouse. My dude was like, "oh so he is like the new RJD2 or Shadow".
I looked up at Clams, and saw him on his lap-top, and was like , "naw. RJ and Shadow put on really technical shows; that's why they can still tour."
Clams, I am not mad him. I enjoyed hearing the beats. But look at it likes this: RJD2 hasn't put an album out that P4k has liked in 10 years. He still is caking of touring; no matter what the fuck he brings to the table. This is because when you watch RJ, he composes a show that gives people something to watch. He plays the MPC then he blends 45s and then pulls out a guitar or whatever. So he is a trusted live brand.  I heard he murdered Bunbury.
Just an observation; I loved hearing Clams Casino in open air….And maybe dude is just concerned with making dope music and sharing it with people. I know this is kinda late given the A-Trak thing in Huffington Post. (And he was prolly more talking about certain Dubstep deejays who can get away with this for now)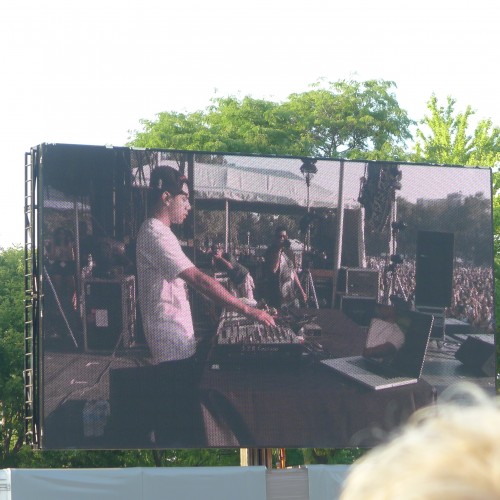 The other 2012 P4k's superproducers,  AraabMusik (above) and Flying Lotus actually give the crowd live music to enjoy. There is an idea something actually happening in front of you.
AraabMUSIK had the strongest set of that night in my eyes. There is something about how he freaks the MPC's in really driving motion that I can only compare to if a metal band fired their guitarist, then chopped up the sound and became danceable somehow. Seriously dominating. After already beating me over the head; AraabMUSIK brought Chicago's own Chief Keef and Lil Reese (below) out to perform I Don't Like.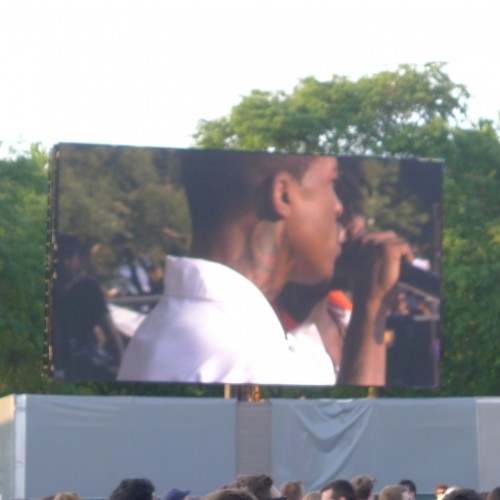 Props to P4K for introducing a good amount of people who probably live in Chicago and just wanted to see Vampire Weekend on a Sunday night to the sound of their city. After Chief Keef and Lil Reese left the stage, I enjoyed a little  bit of Vampire Weekend then  headed over and listened to the Field, and giggled to myself.