Life can change in an instant. Last July, I asked an old friend of mine, Brian Hake (Kopaz singer/guitarist), and his Van Halen cover band (Van Haken), to perform at my 40th birthday bash. The band blew the roof off KOBO putting on a show that some might argue was better than the real thing.
Then, in January, life got real – Brian was diagnosed with Leukemia. By enduring multiple chemotherapy treatments at the James Cancer Center at Ohio State Univerisity, Brian's cancer is now in remission and he's continuing to be proactive in his fight.
I invite you, Donewaiting readers, to join me for the second annual Chip Midnight 40th birthday bash, at KOBO (2590 N. High St.) which is not only an excuse to get together a bunch of bands I really dig to cover songs I really like, but, more importantly, is an opportunity to help raise money for the Hake-n-Roll Pelotonia team which will be riding 100 miles earlier that day to support the James Cancer Center at the Ohio State University. A portion of each $7 cover will be donated to the Hake-n-Roll team.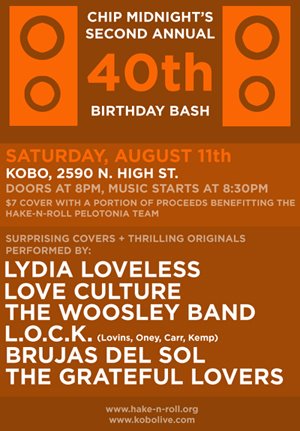 While I'm not exactly sure what covers you'll hear, I expect that artists ranging from Soundgarden to Def Leppard to Smashing Pumpkins to Nirvana will be represented by these great local acts.
Doors open at 8pm with The Grateful Lovers starting at 8:30. Each band will play approximately 30 minutes and the order (from first to last) is as follows:
The Grateful Lovers – acoustic duo featuring Steven Santino and Ed D'Angelo
L.O.C.K. – an all-new supergroup (Mike Lovins of The Roomful, Chuck Oney of The Vague, Scott Carr of The Vague, Ben Kemp of The Honey's) making it's debut at this show
The Woosley Band – Hey, I tried to get a Hangboxers reunion but that didn't work out!
Lydia Loveless – the Bloodshot Recording artist has hinted she'll be playing songs by Def Leppard and The Scorpions
Brujas del Sol – these guys are heavily influenced by a trio of "Black" bands (Sabbath, Angels, Rebel Motorcycle Club)
Love Culture – my favorite glammy/goth band outside of Kill Hannah