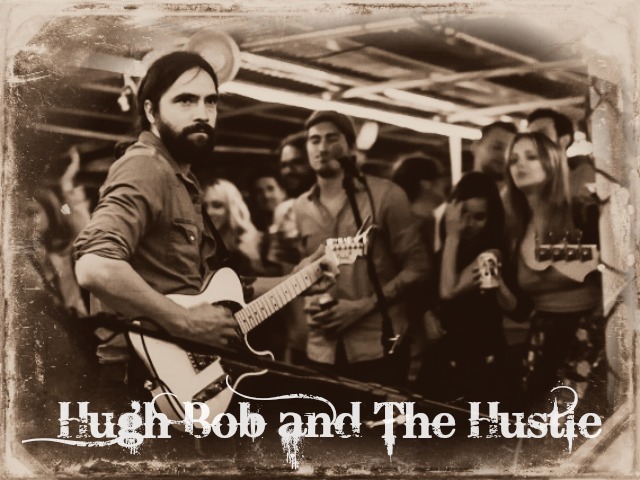 Fireball Whisky presents Hugh Bob and The Hustle, with special guest Nikki Lane, at Kobo on Monday night. The Sheens and Total Navajo round out the bill. Doors are at 8pm.
If you don't love country music, you're just not old enough to understand it. But never fear, someday you'll get it and when you do … well, damn, it'll hit you like a ton of bricks and work it's way deep into your soul. Unfortunately, depending on how old you are, you've lived through crap like Garth Brooks, Toby Keith, and Kenny Chesney and don't know what real country music is.
Hugh Masterson will be the first guy to tell you that HE didn't grow up on country music, that he grew into it. But what a down-to-earth, man-of-the-land sound he's created with his longtime buds (they play(ed?) together as a mildly-more-ass-shaking-rock-outfit called The Wildbirds) in Hugh Bob and The Hustle.
The Wildbirds are no stranger to Columbus – they even did an Electraplay session for us in 2010 – but this show will mark the debut of Hugh Bob and The Hustle in Columbus. So let's see what Hugh has to say about the band, his favorite drinks, and the all-star band he'd put together if given the chance.

What is it that attracts you to Columbus and makes us a stop whenever you decide to tour?
We've played in Columbus before as The Wildbirds. The first time we ever played there we weren't expecting much but we ended up playing to a large audience and people actually knew our songs. Everyone there has been so nice to us and they all seem so genuine. They know how to have fun and appreciate music. Columbus is usually our first stop when we're heading East or South.
The question you must be tired of answering – what is the difference between The Wildbirds and Hugh Bob and The Hustle?
Honestly, I guess the main difference is that The Wildbirds are Rock and Hugh Bob and The Hustle is Classic Country/Rock/Folk?. Rock is something you can shake your ass to and doesn't necessarily need a real story to it. I think that with the Hugh Bob songs, there is more of a story, but you can still shake your ass to some of it.
I grew up in the '80s, an MTV-influenced kid. As I've gotten older, I've discovered that the country music I HATED as a kid is music that I LOVE as an adult. Has the style of music you play always been a part of your life or did you "grow into it" as you got older?
I wasn't a big fan of most country music growing up. I listened to whatever my older brother was in to–GNR, ACDC, Led Zeppelin–things like that. I also enjoyed music that I got turned on to by my parents–like John Hiatt, Lucinda Williams, and Greg Brown. I think I was listening to Dwight Yoakam when I realized "hey, this shit is really good!" Or any damn time Fishin' In The Dark comes on by the Nitty Gritty Dirt Band it just takes me back. Reminds me of being at the bar with my parents, asking for quarters for the pool table, Tecmo Bowl, summers off and staying up late.
I also now appreciate the history of the music, the people and the stories. After thought–I was a teenager in the 90's, the Garth Brooks era of goofy country music–that probably ruined it for me as a kid. OK, next question
Along the lines of the last question, I'm still waiting to "grow into" drinking whiskey (and, hell, I'm 41-years-old). Is there a collective drink of choice for yourself and The Hustle or do you each order something different at the bar?
Nick and I like to have a shot of Jack Daniels before we'd play; a sipper. I also like Ginger Brandy. I think all of us will drink any kind of beer. When we're out of town we like to try the local brews. I spent a lot of time stealing my dad's beer, which is "bud heavy," so my body knows that one well.
Based on the band photos that I've seen, looks like facial hair is in the majority. Any peer pressure trying to get the other guys to follow suit?
Hahaha, great question. Since I've known Quinn, we've both had beards. Once you grow one it's really hard to bring yourself to a close shave. I did it once in the last few years and I couldn't get used to the way I looked. I shaved that day and haven't since. Nick is currently working on his first full beard with no pressure from us, BTW. We're not trying to be ZZ Top or anything.
Are you earning royalty checks from having music in any movies or TV shows? If not, what TV show do you wish you could write the theme song for (have to ask as I've just started watching True Blood and the opening theme song is very powerful)?
We have made money with The Wildbirds that way and I'd like to make money that way (or really any other way) as Hugh Bob and The Hustle. I don't have cable, so I'm a little out of the loop on shows. I kind of fumble around on Netflix from time to time. I think it would be fun to score a movie and it would be an honor to have one of our songs as the theme for a television show.
For this answer, you can't say any of your current bandmates. You have the opportunity to put together an all-star band of country-influenced musicians – who's in the band and are you the leader or a sideman?
Without too much thought on this and without picking superstars I would say: Cary Ann Hearst, Nikki Lane, Hayes Carll, Jonny Corndawg, Justin Townes Earl, Jessica Lea Mayfield, and I'll decide on a drummer later. I'd say we take turns leading the band. The music would probably sound really good and even if it didn't, I'm sure we'd have lots of fun!
I know I'll need a few bucks for the cover and a few more bucks for the drinks on Monday night. What kind of merch will you be packing in your bags to sell at the show and how many bucks should I bring along to spend on things I can take home with me?
I like your attitude! Discount! We will have our brand new album with us. We have our hometown release shows on the 8th and 9th, but we'll be happy to sell them on this tour. I make all of our merchandise and I just finished a batch of flannels, jean jackets, and patches. We also have stickers, posters, and t-shirts.
Prices would probably look something like this:
CD $10
Flannels $15-$20
Jean Jackets $25
Patches: S-$5 M-$10 L-$20
Hand Printed Posters: $15