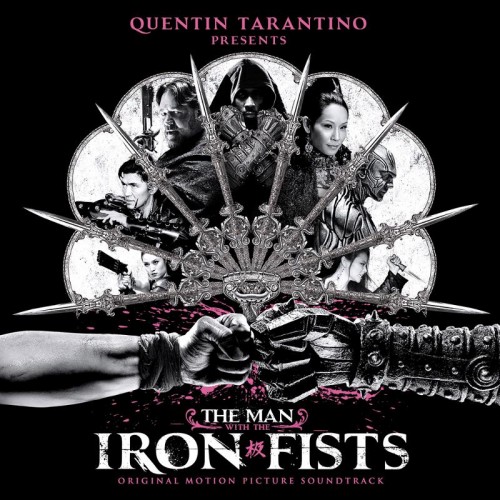 Some details just released about The Quentin Taratino presented  RZA film The Man With the Iron Fists' soundtrack included some interesting collabs like RZA/Black Keys , Rza/Flatbush Zombies, Pusha T/Raekwon, Ghostface/MOP/Pharoah Monche, as well as a Kanye West solo joint.  The soundtrack will be in stores 10/23 and the movie will be in theatres 11/2.
Information about  the film's  actual score  from the press release:
RZA recently discussed the making of the film's unique score at Comic-Con 2012, explaining: "We went and got some of The Wu-Tang original songs…we took out a lot of stuff that was in it, and we re-orchestrated it." "STAX also came on board to help us out, and they gave me about 10 of their famous STAX cues, songs from William Bell, from Isaac Hayes, from Mable John." "So you're going to have a great time listening to this movie as a soundtrack." RZA chose to launch the soundtrack and score albums via his latest music industry venture, Soul Temple Records. Soul Temple releases will reflect independence, authenticity and artistry, engaging all elements of the creative community.
full Soundtrack  tracklisting after the jump
The Man With The Iron Fists Track Listing -subject to change
1. The Black Keys / RZA "The Baddest Man Alive"
2. Ghostface Killah / M.O.P / Pharoahe Monch "Black Out"
3. Kanye West "White Dress"
4. The Revelations feat. Tre Williams "I Forgot To Be Your Lover"
5. Talib Kweli / RES "Get Your Way (Sex as a Weapon)"
6. Raekwon / Ghostface Killah / Kool G. Rap "Rivers of Blood"
7. Method Man / Freddie Gibbs / StreetLife "Built for This"
8. 24 Carat Black "Poverty's Paradise"
9. Killa Sin "The Archer"
10. RZA / Flatbush Zombies "Just Blowin' In The Wind"
12. Corrine Bailey Rae "Chains"
13. Pusha T / Raekwon "Tick Tock"
14. Frances Yip "Green is the Mountain"
15. The Wu-Tang Clan "Six Directions of Boxing"
16. Mabel John "Your Good Thing Is About To End"