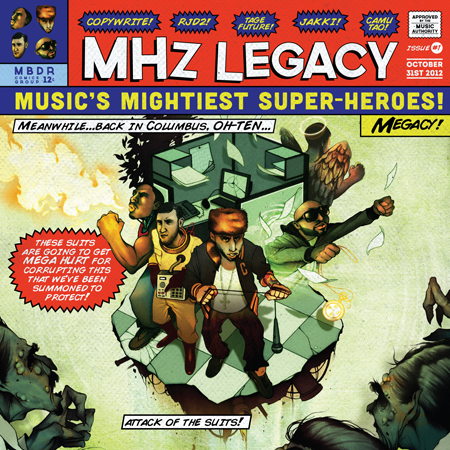 The MHz were a Columbus Hip Hop group in the late 90's that signed to Bobbito Garcia's Fondle Em' Records and paved the the way for the solo careers of RJD2, Copywrite, the late Camu Tao, Jakki and Tage Prototype and C.olumbus Hip Hop in general. Today the Mhz Legacy album was announced with guest appearances by Ill Bill, Danny Brown, Slug, OHno, Playdough, Aaron Livingston, Middle Distance Runner and Blu. RJD2 did some of the beats as well as Harry Fraud, Surock, Illmind, Stu-Bangaz, J-Rawls, Jason Rose, D1, Rob Stern, and Marco Polo.
Mhz Legacy will be released October 30th.
Track List after the jump.
1. Accidentally On Purpose (Prod. By Rob Stern)
2. Hindsight (1998) Ft. Playdough (Prod. By RJD2)
3. Four Player Mode (Prod. By RJD2)
4. Out Of Room (Prod. By RJD2)
5. Spaceship Ft. Danny Brown (Prod. By Harry Fraud)
6. Soul Train (Of Thought) Ft. Oh No The Disrupt (Of Gangrene) (Prod. By !llmind)
7. Addictionary Ft. ILL BILL & Slaine (Of La Coka Nostra) (Prod. By Stu Bangas)
8. Gone! (Prod. By Surock)
9. Obituaries (Prod. By Marco Polo)
10. Columbus Diss Patch Ft. Dom (Prod. By J Rawls)
11. Mass Temple Ft. Steve From Middle Distance Runner (Prod. By Jason Rose)
12. Y'all Don't Know (Prod. By D1)
13. Yellow & Blue Ft. Blu (Prod. By Surock)
14. Satisfaction Ft. Slug (Of Atmosphere) (Prod. By RJD2)
15. Tero Smith Ft. Aaron Livingston (Of Icebird) (Prod. By RJD2)
16. Somewhere (2099) (Prod. By RJD2)
17. Mechanical Me (Prod. By Jason Rose)