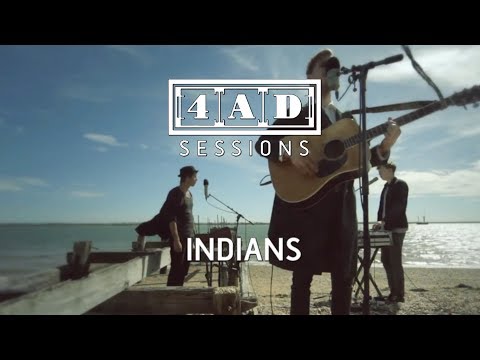 In the past few months, Adriana and I posted a couple freebie tracks from a Copenhagen musician named Søren Løkke Juul, who records as "Indians." Welp, 4AD digs 'em, too, and just signed the band. To give you more in-depth introduction of Indians — and to finally see Søren with his full band play "Magic Kids," "I am Haunted" and "New" — check out the above 4AD Session, which the label describes this way:
Filmed over the course of one day on Osea Island – a little-known, privately owned island in the estuary of the Blackwater in Essex – the starting point for the performance was embracing the challenge of playing, recording and filming outside, placing the music into a vast open space, under sky and near water.With the intention to capture the sense of air and atmosphere in the music, each track was recorded in a different location, moving the band and cameras in order to introduce a new element that reflected the change in song. This was further complimented by the shift in light: the session begins with 'I Am Haunted' filmed just after high tide in the early afternoon, is followed by 'Magic Kids' just as the sun had set, ending with 'New' filmed in the small hours of the morning. While still flecked with the surreal ambiance of Søren's air-tight compositions, the full-band performance adds a foreboding sense of wonder that provides a fitting introduction into Indians' very own natural world.
Indians will make their Columbus debut Dec. 4 at the Basement with Other Lives. Look for the band's first full-length in early 2013.