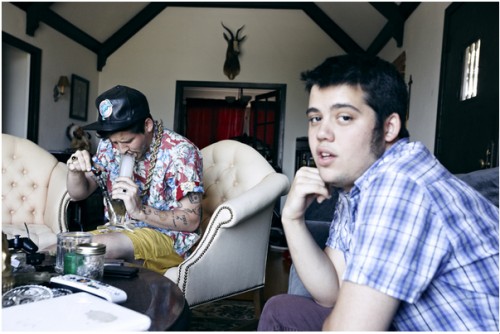 Credit: Dan Monick
Download: Sweet Valley – Eternal Champ
Ok, Sweet Valley is hold-up. Wait. Ok.
So Nathan Williams of Wavves put out some records, toured the world and then bought himself a house. His lil bro bro was Kynan chillin' at their parents San Diego crib-o making electronic pop music. Nathan Williams told Kynan Williams that he would let him move out of his parent's spot and into the new crib  for free under the condition that Kynan would work on this Sweet Valley project with him.  I guess they bonded over Shadow, Dipset, Dilla and DJ Screw. The press release doesn't say that Nathan smoked Kynan out. It does say Kynan is 5 years' younger than Nathan and Nathan did not want Kynan to steal his weed.
It also says they get up in the morning, and search through vinyl for samples and then arrange them with Ableton live and a MPC.  Then they add  to it using keys, bass, guitar, glockenspiel, theremin's etc. They take breaks to play video games. Now they have 9 albums worth of the stuff.
Sweet Vallery put out Stay Calm a little bit ago and now here is a new joint called Eternal Champ available for free on Fool's Gold.
Sweat Valley is touring with Killer Mike, and GZA. Nathan Williams will also play guitar while GZA performs Liquid Swords in it's whole.
This tour hits Theiveland tomorrrow. The rest of the dates can be found on P4K.